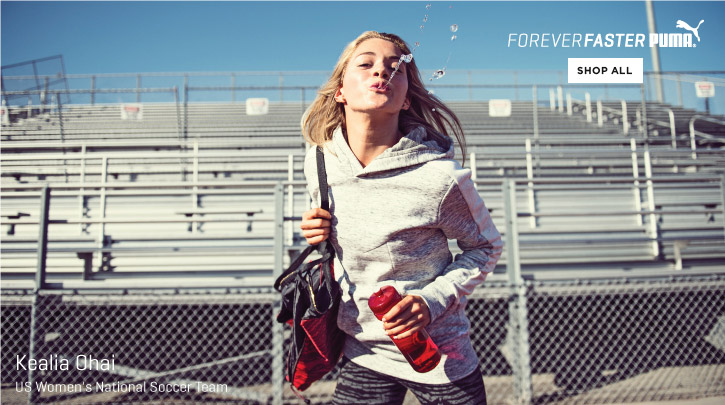 Get Notified
Sign up to receive email updates for new styles from this brand.
Puma Reviews
Posted: Aug 18, 2014 Reviewer: from

East Coast

These are VERY small. They are suited to Women's sizes. I checked the box and they say Men's, however this is totally a women's shoe. Additionally, they have screwed in spikes at the bottom, not very visible from the photos shown. Returning immediately.

Posted: Aug 17, 2014 Reviewer: from

Louisiana

The shipping was fast, the shoes are great, and the service was fantastic! The only advice I give is to maybe get a half a size bigger. But all in all, thumbs up!

Posted: Aug 16, 2014 Reviewer: from

Dearborn Heights, Michigan

A flashback to High School - What I thought was long gone, magically reappeared. They are slightly different with the tongue not having the trademark emboldened Puma symbol, and the back Puma labeled in gold. But, the 1979 and the early 1980's version is long since gone. The newest "Basket" version has softer and more flexible leather (side note, I have an early '90s version of this shoe), this versions inside trademark of the shoe has golden mini-Puma's instead of the big one at the heel. If you want a walk down memory lane, this is the only way to go. My final comment is...this is a great shoe for walking around, always has been, always will be.
About Puma
PUMA® is one of the world´s leading sport lifestyle companies that designs and develops footwear, apparel, and accessories. It is committed to working in ways that contribute to the world by supporting Peace, Creativity, and SAFE Sustainability, and by staying true to the values of being Fair, Honest, Positive and Creative in decisions made and actions taken.

PUMA starts in Sport and ends in Fashion. Its Sport Performance and Lifestyle labels include categories such as Football, Running, Motorsports, Golf and Sailing. The Black Label features collaborations with renowned designers such as Alexander McQueen, Yasuhiro Mihara and Sergio Rossi. The PUMA Group owns the brands PUMA, Tretorn and Hussein Chalayan.

The company, which was founded in 1948, distributes its products in more than 120 countries, employs more than 9,000 people worldwide and has headquarters in Herzogenaurach/Germany, Boston, London and Hong Kong.

PUMA´s mission is to become the most desirable sport lifestyle brand. Fusing sport, lifestyle and fashion is what defines PUMA. From shoes to watches, you can make your personal statement on and off the field. From athletic shoes and a sport bag for training to lounging around the house, PUMA has you covered.