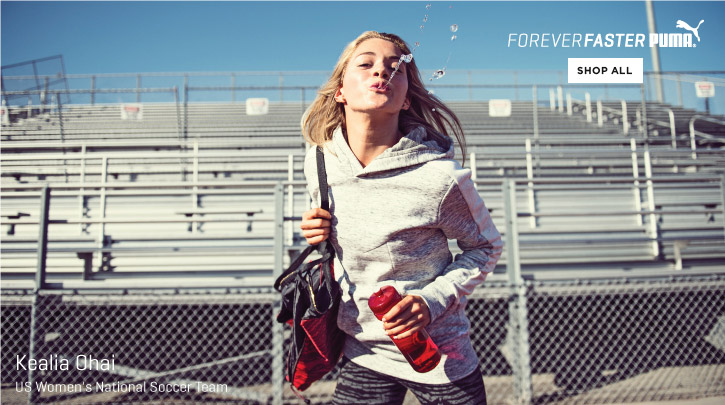 Get Notified
Sign up to receive email updates for new styles from this brand.
Puma Reviews
Posted: Sep 28, 2014 Reviewer:

Ben Strake

from

Boston, Massachusetts

The soles of these shoes came undone within 3 weeks. I like the look and feel of them but it is an absolute waste of money getting these. I got less then 3 weeks of use out of them before they completely fell apart which is completely unacceptable. Maybe I got a faulty pair in which the sole was not properly attached because I can not imagine how anyone could sell this shoe.

Posted: Sep 28, 2014 Reviewer: from

Hawaii

This is my fifth pair of Puma Zandy and my first patent one. I have a pair over 4 years old that I still wear. I can walk for miles in these shoes comfortably and can even jog a bit in them. Favorite all time shoe if not in AGL. Size is true and they stretch out over time.

Posted: Sep 28, 2014 Reviewer:

Mary

I've purchased a lot of Puma pants and love them but the size is off on these. The small did not fit and the medium looked and felt the same as the small.
About Puma
PUMA® is one of the world´s leading sport lifestyle companies that designs and develops footwear, apparel, and accessories. It is committed to working in ways that contribute to the world by supporting Peace, Creativity, and SAFE Sustainability, and by staying true to the values of being Fair, Honest, Positive and Creative in decisions made and actions taken.

PUMA starts in Sport and ends in Fashion. Its Sport Performance and Lifestyle labels include categories such as Football, Running, Motorsports, Golf and Sailing. The Black Label features collaborations with renowned designers such as Alexander McQueen, Yasuhiro Mihara and Sergio Rossi. The PUMA Group owns the brands PUMA, Tretorn and Hussein Chalayan.

The company, which was founded in 1948, distributes its products in more than 120 countries, employs more than 9,000 people worldwide and has headquarters in Herzogenaurach/Germany, Boston, London and Hong Kong.

PUMA´s mission is to become the most desirable sport lifestyle brand. Fusing sport, lifestyle and fashion is what defines PUMA. From shoes to watches, you can make your personal statement on and off the field. From athletic shoes and a sport bag for training to lounging around the house, PUMA has you covered.