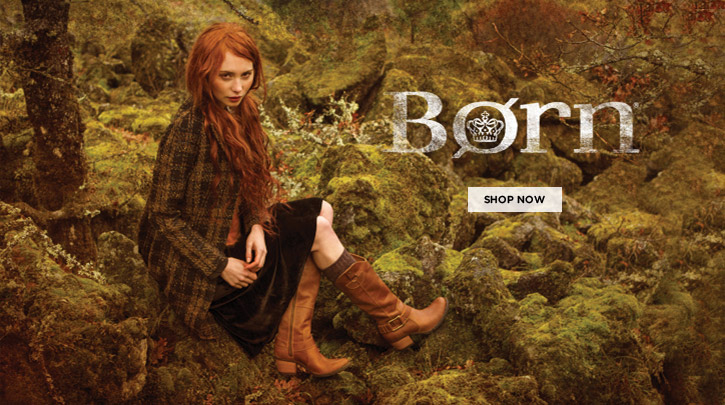 Get Notified
Sign up to receive email updates for new styles from this brand.
About Born
Børn® is a leading manufacturer of genuinely superior comfort footwear for men, women, and children. The line was created to fill a void in the footwear industry during a time when consumers demanded comfort, but had to sacrifice style in order to get it. The goal of Børn footwear is to continue to focus on offering customers everywhere a brand that first and foremost provides comfort, but is also fashionable and fun to wear.

Why are Børn shoes so comfortable? By using the art of "Opanka" hand-sewn construction combined with the finest quality materials, Børn is able to craft shoes that are durable, lightweight and flexible, allowing the wearer to walk as if barefoot. In addition, soft supple leathers and shock-absorbing foam ensure the foot is wrapped in comfort.

Børn shoes have been sold in premier retail stores since 1995 and their appeal to a variety of lifestyles continues to attract customers old and new. They offer a wide selection to men and women of style who have a young, free-spirited attitude about their footwear and lifestyle. Børn shoes are "Works of Art" worn by all age groups, and their styles are as versatile as their customer base is diverse.
Born Reviews
Sep 1, 2014

Jean Simon

from

Naples, Floeida

I have ordered shoes from Zappos numerous times. If the fit was not right, I returned them without any problem or any charge. I love Born shoes. Zappos has a wide and good selection. I now buy almost all of my shoes from Zappos...great company!

Sep 1, 2014

Lisa

from

Littleton

I just love Born shoes! They always fit so amazing - as did these! Like wearing slippers! However, I didn't think they were very pretty - not pretty enough to spend this much on them.

Sep 1, 2014

Phyllis Ruffer

from

United States

I don't ever wear heels, I usually go from flip flops in the summer to boots in the winter. I wanted some slightly dressier but comfortable. These sandals are it! They give you some height, but because they are platforms, you are not walking on the balls of your feet. Simple, good looking and comfortable.