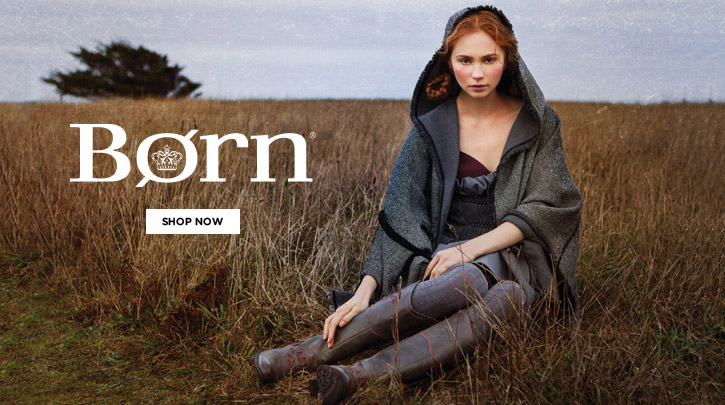 Get Notified
Sign up to receive email updates for new styles from this brand.
About Born
Børn® is a leading manufacturer of genuinely superior comfort footwear for men, women, and children. The line was created to fill a void in the footwear industry during a time when consumers demanded comfort, but had to sacrifice style in order to get it. The goal of Børn footwear is to continue to focus on offering customers everywhere a brand that first and foremost provides comfort, but is also fashionable and fun to wear.

Why are Børn shoes so comfortable? By using the art of "Opanka" hand-sewn construction combined with the finest quality materials, Børn is able to craft shoes that are durable, lightweight and flexible, allowing the wearer to walk as if barefoot. In addition, soft supple leathers and shock-absorbing foam ensure the foot is wrapped in comfort.

Børn shoes have been sold in premier retail stores since 1995 and their appeal to a variety of lifestyles continues to attract customers old and new. They offer a wide selection to men and women of style who have a young, free-spirited attitude about their footwear and lifestyle. Børn shoes are "Works of Art" worn by all age groups, and their styles are as versatile as their customer base is diverse.
Born Reviews
Posted: Dec 6, 2013 Reviewer:

Anonymous

Normally a Born 13 is plenty roomy for me, but a 13 in these seemed a little tight. Zappos excellent service sent me some 14s, but actually the 13s just needed to stretch a little. Excellent shoes, and thanks to Zappos' excellent exchange policies - makes it very easy to shop on line with confidence.

Posted: Dec 6, 2013 Reviewer:

Jaxx

from

PA

These boots are fabulous. Only trouble in this case is that Zappos isn't taking very good care of them, I tried twice and both pair were scratched up. I gave up and got them elsewhere and they are gorgeous. I got the burgundy and the brown and I love love love them. I also got the Rimes and they are nice too. Born is the most comfortable boot.

Posted: Dec 6, 2013 Reviewer:

Marguerite Nevin

from

United States

These boots are so beautiful. They fit great...I need a wide calf boot and they fit perfectly. They look amazing and the leather is top notch. Love them!