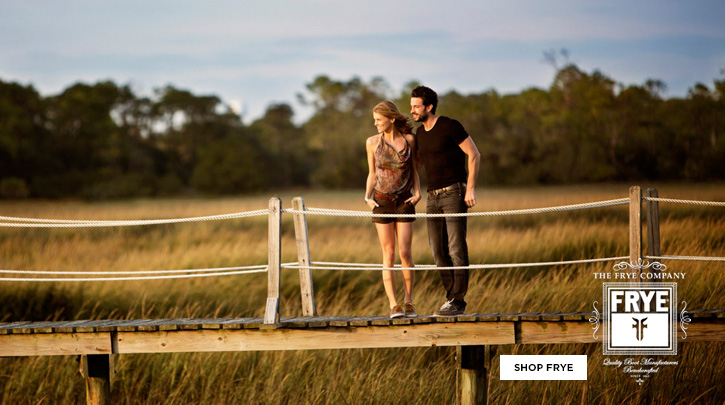 Get Notified
Sign up to receive email updates for new styles from this brand.
About Frye
The Frye Company was founded in 1863 by John A. Frye, a shoemaker from England. Frye products have a long and illustrious history. Frye boots were worn by soldiers for both sides of America's Civil War, soldiers in the Spanish-America war, and for Teddy Roosevelt and his Rough Riders. Many New England families during the mid and late 1800's wore Frye boots as they pioneered across the country to the West.

Frye's current Harness Boots are rooted in tradition and continue to draw influence from the Cavalry. Today the classic Harness Boot holds a place in American culture. The Frye Harness Boot has been pictured in fashion spreads internationally. In 1938, on a trip to Washington, D.C., John A. Frye's grandson and namesake met a U.S. Navy Admiral who confided that he had trouble finding the Wellington boots he liked so much. As a favor, John agreed to make him a pair. Frye continued to fill requests for these boots through the Second World War. During World War II, Frye supplied thousands of servicemen with Frye Wellington boots, known as JetBoots, by mail order.

In the 1960's, Frye reintroduced the Campus Boot, from its 1860 original, featuring a bulky toe and chunky heel that came to epitomize the attitude and the style of the 60's and 70's. There was nothing like these "new" Frye Boots on the market, and consumers began to demand "Original Fryes." When searching for items to represent the America of the 60's, the Smithsonian Institute chose a pair of Frye Boots.

The quality of all Frye shoes is timeless. For almost 150 years, Frye leather products have continued to be benchcrafted from the finest full grain leather uppers. It takes over 190 steps to make one pair of Frye boots. Frye remains dedicated to the commitment of craftsmanship for which Frye boots and Frye shoes have been known for more than 100 years.
Latest Frye Reviews
Posted: May 22, 2013 Reviewer:

GG

from

Bay Area, CA

I don't know what the other reviewers are talking about, but these sandals are perfection! I am a true size 6, and they fit perfectly. I have narrow feet, and I have enough room on the left/right and top/bottom cushioning for my feet. I got the Cement color because I was looking for taupe colored sandals, and they were the perfect shade. I am very happy with my purchase, and even though it was pricey, there is no way I could find a sandal as perfect as this one with a cheap price tag.

Posted: May 22, 2013 Reviewer:

I received these boots yesterday and I love them! I wear a 7.5 in all shoes except Nike. I ordered 7.5 in these and they fit perfectly. When I put them on, they felt a tiny bit wide and loose towards the heel and ankle so I tightened the bottom buckle one notch and they are perfect! Wearing a thicker sock would work, too. This is my first pair of Frye boots and if anyone is thinking about purchasing a pair, I would highly recommend it. They are so soft and have that nice leather smell. I also read the back story on Frye and how they make their boots...it was pretty interesting. It will make you appreciate them even more! I've had them slightly over 24 hours and have gotten several compliments. Great product, very nice people at Zappos, all around great experience!

Posted: May 22, 2013 Reviewer:

Texas Lady

from

Seattle, WA

I so wanted to love this shoe, but it was HUGE. Frye's tend to run large anyway, but it was ridiculous this time. I normally wear a 6.5, but I almost always wear a size 6 in Frye's. So I ordered a 6 in these oxfords. It was HUGE. I think even a 5.5 would be too big. So sad, though I have to say I wasn't thrilled with the Slate color (I was hoping it would be more grey & less green), so perhaps it's for the best. Gorgeous shoe, though!