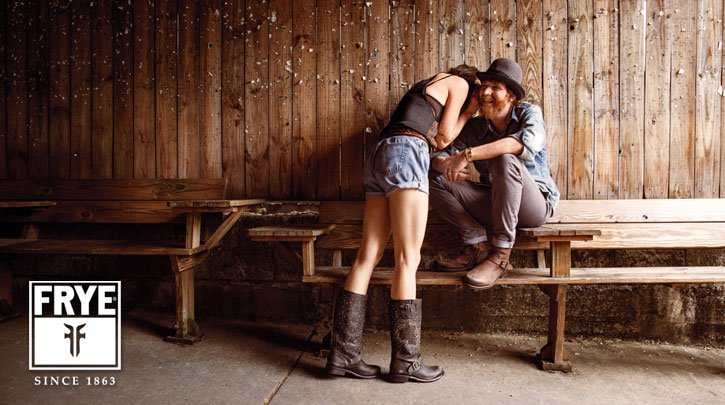 Get Notified
Sign up to receive email updates for new styles from this brand.
About Frye
The Frye Company was founded in 1863 by John A. Frye, a shoemaker from England. Frye products have a long and illustrious history. Frye boots were worn by soldiers for both sides of America's Civil War, soldiers in the Spanish-America war, and for Teddy Roosevelt and his Rough Riders. Many New England families during the mid and late 1800's wore Frye boots as they pioneered across the country to the West.
Frye's current Harness Boots are rooted in tradition and continue to draw influence from the Cavalry. Today the classic Harness Boot holds a place in American culture. The Frye Harness Boot has been pictured in fashion spreads internationally. In 1938, on a trip to Washington, D.C., John A. Frye's grandson and namesake met a U.S. Navy Admiral who confided that he had trouble finding the boots he liked so much. As a favor, John agreed to make him a pair. Frye continued to fill requests for these boots through the Second World War. During World War II, Frye supplied thousands of servicemen with Frye Wellington boots, known as Jet Boots, by mail order.
In the 1960's, Frye reintroduced the Campus Boot, from its 1860 original, featuring a bulky toe and chunky heel that came to epitomize the attitude and the style of the 60's and 70's. There was nothing like these "new" Frye Boots on the market, and consumers began to demand "Original Fryes." When searching for items to represent the America of the 60's, the Smithsonian Institute chose a pair of Frye Boots. The quality of all Frye shoes is timeless. For almost 150 years, Frye leather products have continued to be benchcrafted from the finest full grain leather uppers. It takes over 190 steps to make one pair of Frye boots. Frye remains dedicated to the commitment of craftsmanship for which Frye boots and Frye shoes have been known for more than 100 years.

Latest Frye Reviews
Posted: Dec 7, 2013 Reviewer:

Erika

from

San Francisco

I initially received the Frye Paige Tall boot as a gift. Although beautiful, they were nearly impossible to take off, especially the right boot. My boyfriend had to tug and twist for 30 minutes before it came off. These Melissa Button Back Zip Extended boots are fantastic. Usually, wide calf boots are too large for my calves and regular sized calf boots are too small. These fit my calves like a glove, which I like because I mostly wear them with leggings and know eventually they will stretch out. The look is very classic and elegant. They can be dressed down or dressed up with some tights and a dress. The quality is excellent. I would say the Paige Tall boot had a thicker leather that felt more rugged and stiff. These on the other hand, are more flexible and more comfortable because of it. I have them in the Cognac color which goes with everything. I've been wearing them everyday since I received them. Also, the Paige tall boot was a little too tall for me, hitting right below the knee. These are a little shorter, making my legs appear slimmer.

Posted: Dec 7, 2013 Reviewer:

Shawn

from

Michigan

Sizing: I am a true 10.5, though I wear 11's in most shoes for comfort. I purchased the Dakota's in 10.5, and they do run large. There is quite a bit of room in the toe, though they are snug everywhere else. A little extra room isn't the worst thing in boots. Perhaps I could have gone to a 10, but this is a slender boot, so a 10 may have cramped my feet. Also, I wear Dr. Scholl's arch support inserts (the ones that come from the little station at the supermarket) so that helped to keep the boot snug. Fit: They are very stiff coming out of the box, and the highest speed hooks on the inner ankle do rub a bit. They were not comfortable at first. I've worn them for a day, and they did feel considerably better after time. These are all things that will be cured with breaking them in a bit. Quality/Style: The leather is top notch. They are beautiful boots. They feel like they were well made. They look excellent with jeans, and I had no problem wearing them to the office on Friday. Shipping: ordered them on Sunday night, and they arrived Thursday afternoon. Zappos shipping gets an A+ from me. Overall: I recommend these boots. I looked into Chippewa's, Timberlands, and Red Wings, but at this price, knowing Frye's reputation for quality apparel, I felt these were the best purchase. I'm looking forward to breaking these in and wearing them for the next 10+ years.