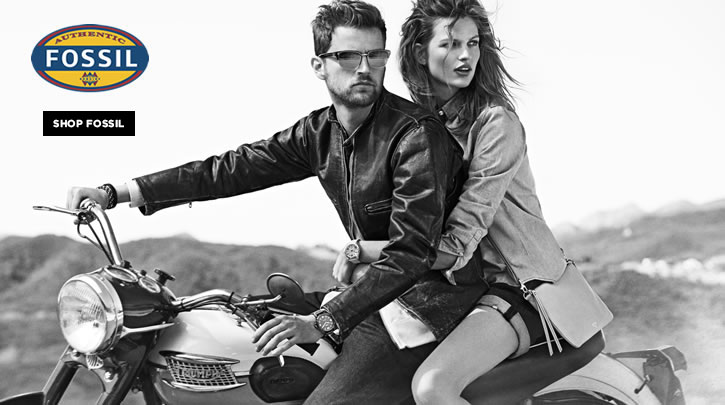 Get Notified
Sign up to receive email updates for new styles from this brand.
Latest Fossil Reviews
Posted: Apr 15, 2014 Reviewer: from

Washington, D.C.

I purchased this in the brown leather, and I love it! The leather is a great quality and soft and luscious. The adjustable strap for crossbody wear is exactly what I was looking for. This purse is a great size, not too big or small and fits all of my essentials and more. I appreciate that it has plenty of separate areas and an interior zippered compartment. A great everyday purse. (But Zappos, please don't tell me you allowed one of the previous reviewers to actually return her used purse! The bag was not defective, it was her error that she destroyed a light colored leather purse by wearing dark jeans!)

Posted: Apr 15, 2014 Reviewer:

Great wallet. A bit larger than my previous Fossil, but I have gotten used to it after a few weeks. The magnet can hold about 10 bills tops. Overall 4, would have been 5 if it was about 15-20 smaller and the clip/magnet can hold more bills.

Posted: Apr 14, 2014 Reviewer:

Lili

from

Syracuse, NY

I have to say, I'm not too thrilled with this watch. When I received it, the number 6 was floating around, loose within the face of the watch, and the watch could not keep time (not surprisingly). Of course, Zappos' customer service is excellent, so that was not a problem in the slightest. I decided to try again, and get an exchange. The new watch works fine, but, it is quite tight, and I don't have a particularly large wrist. I can wear it comfortably on the loosest setting...and that is only since the leather has begun to stretch a bit from continuous wear. In the end, the watch is pretty, but not super functional. I do wear it from time to time, but it is nowhere near my favorite, which is a pity, because I was looking for a new default watch. Oh well. I am just grateful to Zappos for being so amazing with their customer service!
About Fossil
Fossil brand was founded in 1984 at a time when watches and handbags were created more for function than fashion. While their desire was simply to fill that fashion void in the watch industry they have soared to new heights by adding Fossil handbags to their wide portfolio of products. Today, Fossil watch and Fossil handbag designers are constantly studying emerging fashion trends. They are also continually striving to bring their customers the most innovative and unique handbags and watches on the market to date.

With their main focus on bringing fashion to functionality, in the mid '90s Fossil watch brand created a line of women's handbags, men's bags and small leather goods. Fossil's women's handbag line takes the finest materials and forms them into different styles and sizes appealing to a wide range of women. Whether you are looking for a tote, cross body bag, satchel or hobo, season after season Fossil Handbags will offer it all. In addition to women's bags, Fossil also has a men's bag line, which was created with the intention of providing men with durable bags to be either carried every day for work or for travel.

Fossil watches are offered in an array of sizes, styles and materials. Watches with bracelet bands to watches with leather bands and everything in between can be found both in Fossil men's watch line and Fossil women's watch line. The company's founding principal of bringing fashion to function are still in place today and can be seen season after season in their array of watches offered.