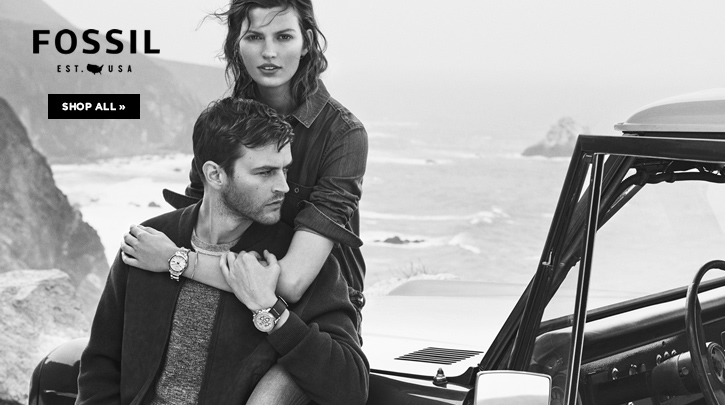 Get Notified
Sign up to receive email updates for new styles from this brand.
Latest Fossil Reviews
Posted: Jul 24, 2014 Reviewer:

I've had this watch for over 3 years now and I still love it. The battery only just went out, but it is still my favorite watch. The only issue is that the color rubbed off around the clasps pretty quickly. Fortunately, you can't really see it. I highly recommend this watch.

Posted: Jul 22, 2014 Reviewer:

HappyWomanInMiamixoxo

from

Miami, Florida - The Sunshine State

I have so many totes from Zappos, was looking for a pretty beach tote and Boom, ran into this beautiful Keyper Beach Tote from Fossil. Ordered the Navy Stripe! Very big but just perfect, once you start putting stuff in, it will probably won't look too big! But then again, what can a woman ask for, a big, spacious beach tote! Thanks Fossil and Zappos! Has room for a towel, 13 inch laptop, phone, make up bag, etc. Thanks again!

Posted: Jul 21, 2014 Reviewer:

Melissa Turner

from

Berkeley, CA

I love this bag. Lots of compartments (it will hold about anything you'd want to drag around all day) and fabulous style. The leather has that yummy buttery feel we all want. The adjustable, across the body, strap is perfect they got it exactly right on the strap and the handle is actually large enough to put your arm through, so they nailed that as well. Here's the downside - because of the hardware, it weighs like a Buick. It's really heavy even when empty. I originally saw this bag in the brown, but thought the black would be more versatile; however, the brown handles on the black bag have an oddly cheap appearance which I don't remember with the brown version. Overall, I'm still very pleased with this bag. I'd purchase it again even knowing that I'm giving my biceps a work out every time I pick it up. Not a bag for sissies.
About Fossil
Fossil brand was founded in 1984 at a time when watches and handbags were created more for function than fashion. While their desire was simply to fill that fashion void in the watch industry they have soared to new heights by adding Fossil handbags to their wide portfolio of products. Today, Fossil watch and Fossil handbag designers are constantly studying emerging fashion trends. They are also continually striving to bring their customers the most innovative and unique handbags and watches on the market to date.

With their main focus on bringing fashion to functionality, in the mid '90s Fossil watch brand created a line of women's handbags, men's bags and small leather goods. Fossil's women's handbag line takes the finest materials and forms them into different styles and sizes appealing to a wide range of women. Whether you are looking for a tote, cross body bag, satchel or hobo, season after season Fossil Handbags will offer it all. In addition to women's bags, Fossil also has a men's bag line, which was created with the intention of providing men with durable bags to be either carried every day for work or for travel.

Fossil watches are offered in an array of sizes, styles and materials. Watches with bracelet bands to watches with leather bands and everything in between can be found both in Fossil men's watch line and Fossil women's watch line. The company's founding principal of bringing fashion to function are still in place today and can be seen season after season in their array of watches offered.