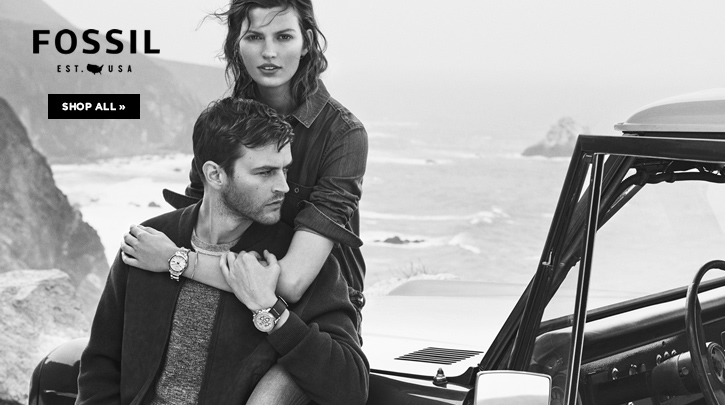 Get Notified
Sign up to receive email updates for new styles from this brand.
Latest Fossil Reviews
Posted: Aug 30, 2014 Reviewer:

Pam J.

from

Nevada

Love this wallet! Has separate compartment for bills and receipts so they aren't all jumbled together, has an outside pocket for change, has a lot of slots for credit cards that are easy to get to, is made of soft leather, what more do you need? I was thinking of buying another one to have on hand when this one wears out. Love it!!

Posted: Aug 29, 2014 Reviewer: from

Gainesville, FL

My new favorite bag! As a working mom of 2 toddlers, this bag is perfect. It can fit all my daily essentials plus snacks, toys or an extra diaper and not be too bulky. A mush have for busy moms on the go!

Posted: Aug 28, 2014 Reviewer:

Brittney Phetchamphone

from

Salt Lake City

Ever since high school I've always stuffed a novel and some miscellaneous items into my leather bag and went out for the day. Eventually, that bag broke in nearly every way possible and I thought I would never find a proper (affordable) replacement. Finally, I tried zappos and instantly knew that this was the bag I'd been searching for (cue me running in slow motion with open arms to this bag in the middle of a meadow). The lining is not silky like most bags which I find to be a huge perk. Most bag linings rip and stain over time, but this is a sturdy bag all around, very classy looking, and goes with everything. I'd highly recommend this and it would look lovely to wear around in the fall. The only thing I can think to warn people about is that this is smaller in comparison to the bigger bags I see most ladies with these days. So, if you're the type that likes to put your shoes, beverages, umbrella, small dogs, etc in your bag you may want to look elsewhere or consider living like a normal human and carry around less with you. Seriously, it takes you 10 minutes to find your keys in that black hole that you like to call a "tote" and you don't need to keep all of those receipts from Costco last year.
About Fossil
Fossil brand was founded in 1984 at a time when watches and handbags were created more for function than fashion. While their desire was simply to fill that fashion void in the watch industry they have soared to new heights by adding Fossil handbags to their wide portfolio of products. Today, Fossil watch and Fossil handbag designers are constantly studying emerging fashion trends. They are also continually striving to bring their customers the most innovative and unique handbags and watches on the market to date.

With their main focus on bringing fashion to functionality, in the mid '90s Fossil watch brand created a line of women's handbags, men's bags and small leather goods. Fossil's women's handbag line takes the finest materials and forms them into different styles and sizes appealing to a wide range of women. Whether you are looking for a tote, cross body bag, satchel or hobo, season after season Fossil Handbags will offer it all. In addition to women's bags, Fossil also has a men's bag line, which was created with the intention of providing men with durable bags to be either carried every day for work or for travel.

Fossil watches are offered in an array of sizes, styles and materials. Watches with bracelet bands to watches with leather bands and everything in between can be found both in Fossil men's watch line and Fossil women's watch line. The company's founding principal of bringing fashion to function are still in place today and can be seen season after season in their array of watches offered.