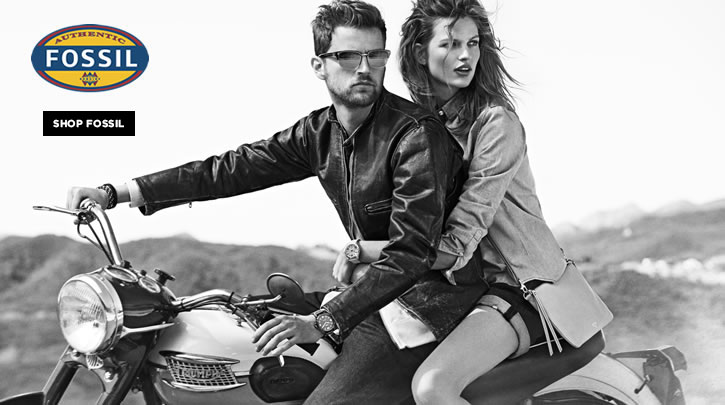 Get Notified
Sign up to receive email updates for new styles from this brand.
Latest Fossil Reviews
Posted: Apr 22, 2014 Reviewer: from

Sugar Land, Texas

Love this bag! The leather is buttery soft. It feels and looks rich. I am downsizing from a bigger bag and initially doubted my choice but I now am loving this Fossil Traveler. The many pockets and compartments give me all the room I need and the adjustable strap is especially handy when traveling and trying to juggle a piece of luggage, a jacket and a carry-on. This is a winner for me that will get year round use plus it was on sale!

Posted: Apr 22, 2014 Reviewer:

Kim

from

San Francisco

The Neutral Stripe option seems to be a slightly modified design from the other ones. It doesn't have the outer zipper pocket that the other colors have, which is a bit of a disappointment, as it is priced the same as some of the other patterns which DO feature the extra pocket. Also, the material is definitely not leather, nor is it canvas as the photos kind of depict--it's actually a thick nylon of some sort. I want to hang onto it because it truly is an attractive bag, but in practice, if you have large sunglasses, the case won't fit inside the main compartment without creating a huge bulge. My slimmer glasses case fits okay if I use the card slots instead of throwing my wallet in there.
About Fossil
Fossil brand was founded in 1984 at a time when watches and handbags were created more for function than fashion. While their desire was simply to fill that fashion void in the watch industry they have soared to new heights by adding Fossil handbags to their wide portfolio of products. Today, Fossil watch and Fossil handbag designers are constantly studying emerging fashion trends. They are also continually striving to bring their customers the most innovative and unique handbags and watches on the market to date.

With their main focus on bringing fashion to functionality, in the mid '90s Fossil watch brand created a line of women's handbags, men's bags and small leather goods. Fossil's women's handbag line takes the finest materials and forms them into different styles and sizes appealing to a wide range of women. Whether you are looking for a tote, cross body bag, satchel or hobo, season after season Fossil Handbags will offer it all. In addition to women's bags, Fossil also has a men's bag line, which was created with the intention of providing men with durable bags to be either carried every day for work or for travel.

Fossil watches are offered in an array of sizes, styles and materials. Watches with bracelet bands to watches with leather bands and everything in between can be found both in Fossil men's watch line and Fossil women's watch line. The company's founding principal of bringing fashion to function are still in place today and can be seen season after season in their array of watches offered.