Sign Up

for

New Styles!

Be "in-the-know" when we add new styles of Union to our website! Simply sign up and we'll notify you.

Zappos.com respects your privacy. We don't rent or sell your personal information to anyone.
About Union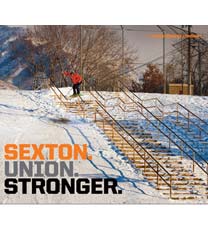 Union Binding Company has been dedicated to crafting flawless snowboarding gear since 2004. Making sure to put their name on the map, the product has always come first and foremost by uniting snowboard and rider through next-level comfort, performance, and durability.

The first year Union was on the market, they built an elite binding that was totally bombproof. From then on, they developed and pioneered new materials and processes to the binding market, being the first snowboard company to utilize things like Extruded Aluminum, Injected Magnesium, Meta Fuse Nano Technology, and the list goes on.

Moving forward, Union has committed to building the lightest, strongest, and best riding snowboard gear on the market.
Free Shipping Both Ways · 24/7 Customer Service · 365 Day Return Policy