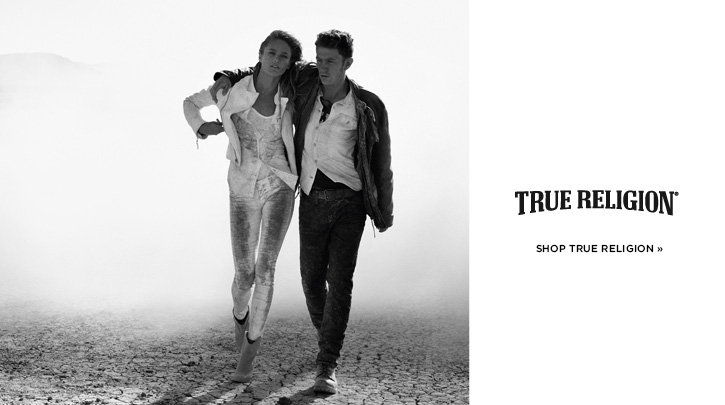 Get Notified
Sign up to receive email updates for new styles from this brand.
About True Religion
True Religion was founded in 2002 by Jeffrey Lubell with a vision to redefine premium denim. Jeffrey wanted to create denim that was American made, timeless and great fitting with a '70s inspired feel that appealed to the customer of today.

The True Religion Brand is known not only for its denim, but also for its sportswear, such as t-shirts, sweatshirts, western shirts and sweatpants that all have a vintage feel, yet remain true to today's ever changing styles and trends.

True Religion footwear is an extension of the True Religion apparel brand. Committed to a perfect fit and a seemingly timeless style, True Religion Footwear uses premium leathers, textiles, canvases and denim fabrics to make an upscale line of footwear for men, women and children alike. The sneaker line offers a wide range of constructions and styles while the boot, shoe and sandal line offers boundless styles that all have that American vintage look and feel.

Timeless, hippie, bohemian and chic - True Religion Brand Jeans will always remain a powerful force in the fashion world.
Our Latest True Religion Reviews
Apr 16, 2014

Annette Sprules

from

Johannesburg, South Africa

Zappos service is awesome! Thank you. The jeans fit perfectly...would most definitely use Zappos again.

Apr 6, 2014

Markita

from

Detroit

I love these jeans. I'm 5'2, 180 lbs & very curvy. I was afraid these jeans wouldn't fit me because I have very wide hips but they did! They have just enough stretch to do the trick!

Apr 3, 2014

Anonymous

from

Newburgh, New York

I love these jeans. Very form fitting but extremely comfy. I got a ton of compliments and can't wait to wear them again. Very sexy with a high her.