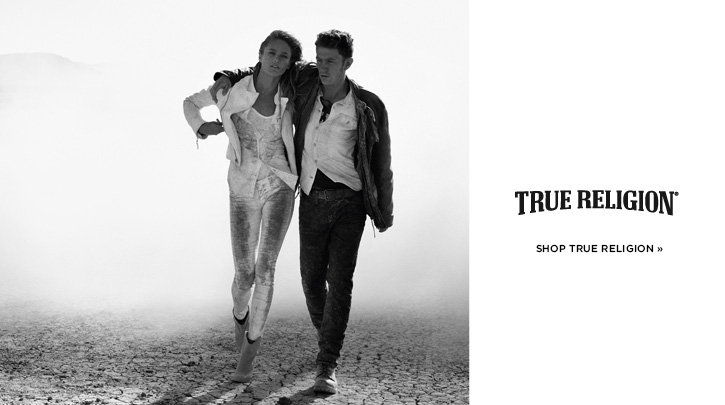 Get Notified
Sign up to receive email updates for new styles from this brand.
About True Religion
True Religion was founded in 2002 by Jeffrey Lubell with a vision to redefine premium denim. Jeffrey wanted to create denim that was American made, timeless and great fitting with a '70s inspired feel that appealed to the customer of today.

The True Religion Brand is known not only for its denim, but also for its sportswear, such as t-shirts, sweatshirts, western shirts and sweatpants that all have a vintage feel, yet remain true to today's ever changing styles and trends.

True Religion footwear is an extension of the True Religion apparel brand. Committed to a perfect fit and a seemingly timeless style, True Religion Footwear uses premium leathers, textiles, canvases and denim fabrics to make an upscale line of footwear for men, women and children alike. The sneaker line offers a wide range of constructions and styles while the boot, shoe and sandal line offers boundless styles that all have that American vintage look and feel.

Timeless, hippie, bohemian and chic - True Religion Brand Jeans will always remain a powerful force in the fashion world.
Our Latest True Religion Reviews
Jul 31, 2014

Anonymous

Had to order two sizes down. Very light weigh pants: could be worn summer, spring or early fall. Can wear hem cuffed or not. Basic khaki pant that fit well & well made.

Jun 23, 2014

dexter barbee from

burlington nc

Like length of these and wish had pocket for cell phone. Quite expensive.Wish they would come with velcro pockets. to hard to get into back pocket.

Jun 6, 2014

Anonymous

Best jeans ever. These particular ones fit me just right as I want to wear sneakers with them and I do not have to have them hemmed. I am 5'5 so the petite or 31 inseam is just the right fit. I am never disappointed and I think Zappos' quality customer service option of free shipping and free returns helps big time. Keep up being superb, Zappos, and you have a patron for life. You always have the best items all around, and the most up to date fashion wear all in one shop. Plus, I get everything I want super quick! They are always reliable. I have never had a problem. Thanks again Zappos!