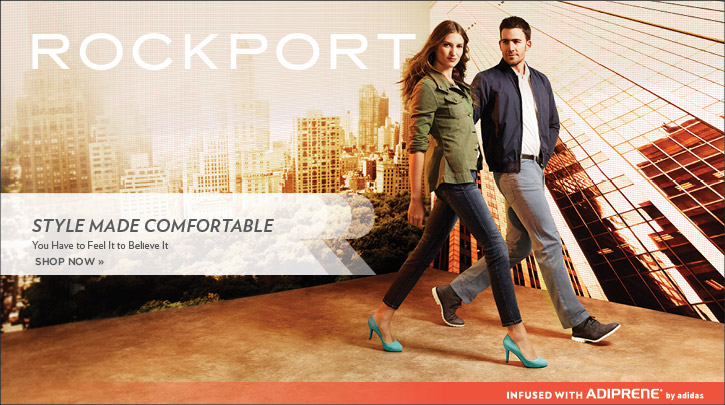 Get Notified
Sign up to receive email updates for new styles from this brand.
About Rockport
Rockport®: designing footwear that works all day, every day, so you can look good longer.

For nearly 40 years, the Rockport® Company has been an industry innovator, the first to use advanced materials and technologies in classically styled shoes for men and women.

The Rockport philosophy of Walkability™ is simple: it means a shoe should fit your foot, not the other way around. It means premium materials, tailored to your lifestyle. It means adiPRENE™ by adidas® technology for comfort where you need it. It means developing innovative footwear engineering that responds to the foot's natural movements.

Building the ultimate footwear for a diverse and active lifestyle means constant evolution. The brand's unique partnership with adidas and the integration of adiPRENE technology into their collections is just the latest collaboration in a proud history of applying athletic-shoe science to casual and dress footwear.

Rockport's current collection is designed with the metropolitan professional in mind; shoes that take you from a challenging workday to a night out to a weekend away. Rockport styles are updated with more tailored, sophisticated profiles, offering a new, dress-up/dress-down versatility for men and women.

There is a renewed focus on classic patterns and an emphasis on quality, both in the materials used and in the construction of the shoe itself. Investing in a timeless product simply makes sense. The formerly causal, relaxed silhouettes have evolved into more tailored, sophisticated, and versatile profiles.
Rockport Reviews
Jul 27, 2014

Monica C

from

Texas

Was really excited about these shoes, but when I tried them on, they had no arch support. The toe box was quite smaller than I had expected and I had ordered a wide size. My order was wrong too. I got one shoe in an 8 and one in a 9, so maybe that caused to my dissatisfaction. Looked like a good quality shoe, but definitely not for me.

Jul 27, 2014

Anne

from

Indianapolis

Great shoes - these are comfortable yet stylish for the office. Perfect heel height and a great rubber sole. Try them!

Jul 26, 2014

Anonymous

from

Santa Rosa, CA

I absolutely love these shoes! They are cute and super comfortable. My only "con" is that after wearing (and standing/walking) in them for several hours my big toes tend to start getting soar. I think they start pushing against the front - which probably happens in any heels. Anyways, I definitely would recommend them if you are looking for cute and comfortable work shoes.