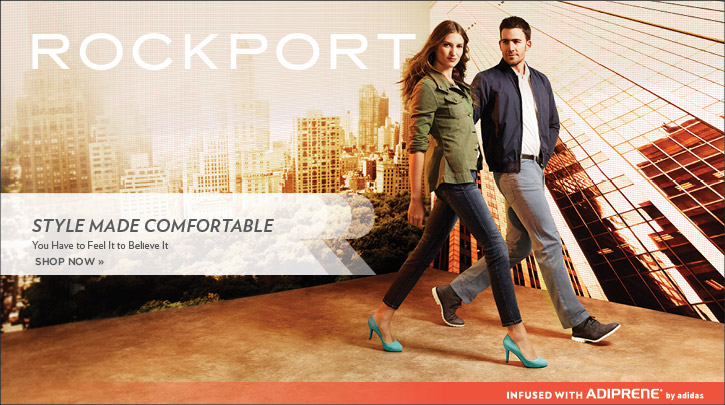 Get Notified
Sign up to receive email updates for new styles from this brand.
About Rockport
Rockport®: designing footwear that works all day, every day, so you can look good longer.

For nearly 40 years, the Rockport® Company has been an industry innovator, the first to use advanced materials and technologies in classically styled shoes for men and women.

The Rockport philosophy of Walkability™ is simple: it means a shoe should fit your foot, not the other way around. It means premium materials, tailored to your lifestyle. It means adiPRENE™ by adidas® technology for comfort where you need it. It means developing innovative footwear engineering that responds to the foot's natural movements.

Building the ultimate footwear for a diverse and active lifestyle means constant evolution. The brand's unique partnership with adidas and the integration of adiPRENE technology into their collections is just the latest collaboration in a proud history of applying athletic-shoe science to casual and dress footwear.

Rockport's current collection is designed with the metropolitan professional in mind; shoes that take you from a challenging workday to a night out to a weekend away. Rockport styles are updated with more tailored, sophisticated profiles, offering a new, dress-up/dress-down versatility for men and women.

There is a renewed focus on classic patterns and an emphasis on quality, both in the materials used and in the construction of the shoe itself. Investing in a timeless product simply makes sense. The formerly causal, relaxed silhouettes have evolved into more tailored, sophisticated, and versatile profiles.
Rockport Reviews
Sep 1, 2014

Lionel Tejada

from

Honolulu, Hawaii

My first pair has lasted for over 10 years and on every trip I've been. Wouldn't travel without them. Can virtually be used anywhere.

Sep 1, 2014

Mike Calabrese

from

Manassas, VA

I had a pair of Rockport wingtips that were about 15 years old. They still looked good but the heel was wearing out. So I looked around for a new pair. Could not find them in a brick & mortar store. So I ordered a pair from zappos.com. The price was reasonable for these types of shoes. They fit well, look nice and hopefully, will last me another 15 years.