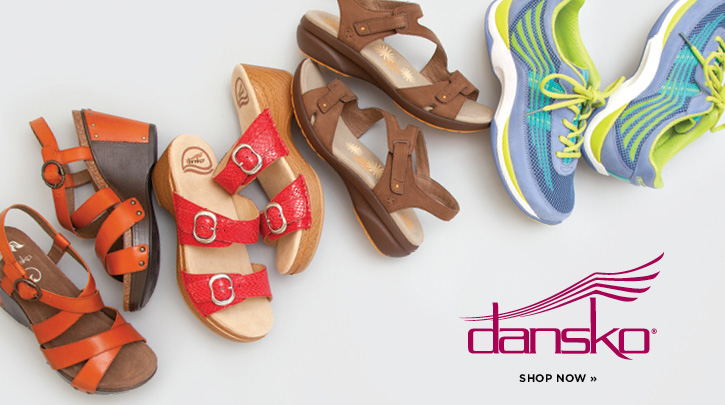 Get Notified
Sign up to receive email updates for new styles from this brand.
About Dansko
About Dansko
Healthy feet, healthy body, healthy planet. That's the spirit behind Dansko®, founded in 1990 by wife and husband team, Mandy Cabot and Peter Kjellerup. Dansko believes that your feet are the foundation of your life. That is why every collection Dansko designs is based on the comfort principles of the clog to maximize all-day comfort. Each style features a roomy toe box to promote circulation, a stress reducing rocker bottom, and superior arch support. And it doesn't stop there. With a flair for style, Dansko translates today's trends into shoes made for every moment of your life. From Dansko clogs to boots, flats to sandals, wherever you're going, there is a Dansko to get you there.

All-Day Comfort
Dansko shoes can't shorten your day, but they can reduce strain on the entire body. Their unique constructions support the whole foot - toes, arch and heel. To help people feel better for longer Dansko adds shock absorption, a rocker bottom and solid arch support to reduce any strain on your legs, back and feet.

Beautiful - Inside and Out
Comfort comes without compromise. Dansko shoes for men, women, and children use the finest materials and construction methods available. Underneath each pretty exterior lies a tough heart for years of dependable wear. Over the years Dansko clogs have become a staple in many households.

Get in the game of life
Dansko is an equal opportunity champion of foot health. It's no accident that Dansko shoes have become the choice of doctors, nurses, teachers, chefs and other professionals who stand for hours at a time. People who work hard also want to play hard in the rest of their life.

Walk the walk
Dansko strives to become everyone's favorite shoe company by having a positive impact on each community we touch. They begin by treating their team members, retailers, customers and the people who craft Dansko shoes honestly and with respect. It continues with a single stream recycling, sourcing renewable materials and encouraging our team members to volunteer their time for special causes. You can join them, too, by making planet- and people-friendly choices every day.
Dansko Reviews
Apr 23, 2014

Anonymous

Wow! Love these shoes. Very comfortable - wore them 9 hours the first day out of the box without any problems. And received compliments.

Apr 23, 2014

Ann Shackelford

from

Martinez CA

Very comfortable. Wish I could afford another pair in another color. Must wait for sale!

Apr 23, 2014

Sandra

from

Ohio

This shoe seems to be very well constructed and durable, with what seems to be quality leather uppers. Unlike almost every other shoe made for women, to its credit, this one has a very pronounce arch support. They are quite stiff at first, so it might take a while to break them in. I like the thick sole, especially at the front end, which minimizes the height differential between the heel and toe, giving you some lift without the pain of standing in a high-heeled shoe. I ordered this as a casual shoe to wear with jeans instead of sneakers. It's not bad looking, though a little clunky. But for casual wear, that's OK. However, two features caused me to return them. One is that the length is about a half-size bigger than expected, so my heel lifts out of the shoe as I walk. I have medium-wide feet, so it's snug between my heel and toes, and I would think going down a half-size would feel too tight. The other problem is that the toe box is so spacious that I feel that there's not enough support up front. I don't particularly like the look of the toe area either, the way it curves upward, and would have liked it better if it tapered more toward the front of the shoe instead. But if the fit had been perfect, I would have kept them.