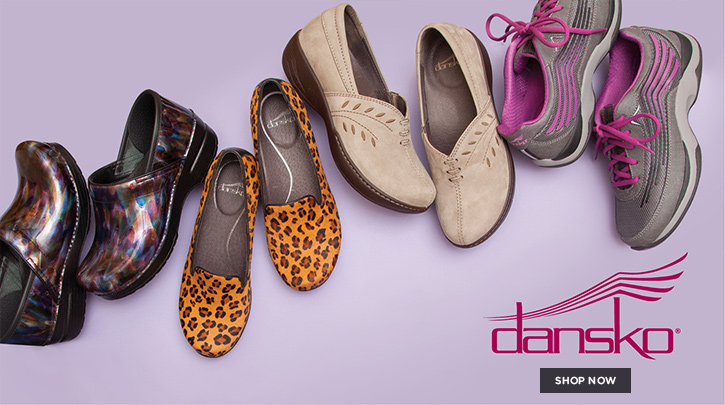 Get Notified
Sign up to receive email updates for new styles from this brand.
About Dansko
About Dansko
Healthy feet, healthy body, healthy planet. That's the spirit behind Dansko®, founded in 1990 by wife and husband team, Mandy Cabot and Peter Kjellerup. Dansko believes that your feet are the foundation of your life. That is why every collection Dansko designs is based on the comfort principles of the clog to maximize all-day comfort. Each style features a roomy toe box to promote circulation, a stress reducing rocker bottom, and superior arch support. And it doesn't stop there. With a flair for style, Dansko translates today's trends into shoes made for every moment of your life. From Dansko clogs to boots, flats to sandals, wherever you're going, there is a Dansko to get you there.

All-Day Comfort
Dansko shoes can't shorten your day, but they can reduce strain on the entire body. Their unique constructions support the whole foot - toes, arch and heel. To help people feel better for longer Dansko adds shock absorption, a rocker bottom and solid arch support to reduce any strain on your legs, back and feet.

Beautiful - Inside and Out
Comfort comes without compromise. Dansko shoes for men, women, and children use the finest materials and construction methods available. Underneath each pretty exterior lies a tough heart for years of dependable wear. Over the years Dansko clogs have become a staple in many households.

Get in the game of life
Dansko is an equal opportunity champion of foot health. It's no accident that Dansko shoes have become the choice of doctors, nurses, teachers, chefs and other professionals who stand for hours at a time. People who work hard also want to play hard in the rest of their life.

Walk the walk
Dansko strives to become everyone's favorite shoe company by having a positive impact on each community we touch. They begin by treating their team members, retailers, customers and the people who craft Dansko shoes honestly and with respect. It continues with a single stream recycling, sourcing renewable materials and encouraging our team members to volunteer their time for special causes. You can join them, too, by making planet- and people-friendly choices every day.
Dansko Reviews
Aug 25, 2014

PacNorWest Teacher

from

Washington

Typically I can wear Dansko regular width shoes even though I am a double wide in American sizes due to bunions. This sandal was darling; however, it was too tight across the base of the toes. I could not get my foot into the shoe. Also, the color is a bit more dark 'in person' than the computer screen showed.

Aug 25, 2014

Janet Lipham

from

Albuquerque, NM

I love the look of the shoe. Mules can be clunky, this one is more streamlined. The fabric accent gives the shoe more style than the average mule. The top has curved stitching which add a feminine touch. The shoe's only shortcoming is lack of cushioning in the sole. If you spend a lot of time on your feet, especially on hard surfaces, I wouldn't recommend them. It's the only reason I gave the shoe 4 stars.

Aug 25, 2014

Jennifer Kneath

from

Providence, RI

I have to say to KUDOS to their customer service dept. I was looking for a pair of red sandals to wear with a red & white summer dress and Zappos had exactly what I was looking for. I currently own ay least 7 pairs of Dansko already so when I ordered them in size 38 like the rest of shoes, they were small. Unfortunately I didn't discover this until about 10:30 on a Wed night. I called Zappos to see if they had a 39 in stock and they did. The woman on the phone immediately sent out a 39 and I received them Friday after work! I love these sandals! The foot bed is wrapped in a material that feels like suede and they are stylish enough to wear to work and everyday jeans or shorts. The sandals are not only comfy but Zappos went above and beyond my expectations!