Sign Up

for

New Styles!

Be "in-the-know" when we add new styles of Breville to our website! Simply sign up and we'll notify you.

Zappos.com respects your privacy. We don't rent or sell your personal information to anyone.
About Breville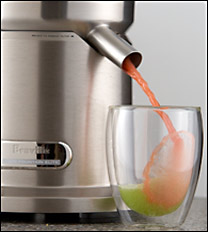 Breville® is a Sydney, Australia based brand that is obsessed with designing and manufacturing kitchen tools that cooking enthusiasts will use every day.

In 1932, O'Brien and good friend and fellow engineer, Harry Norville, decided to pool their resources and start their own business manufacturing radios. In the 1970s Breville, imbued with a "we-can-do-it" attitude and a healthy dose of Australian ingenuity, unleashed a series of appliances on the world that would become kitchen icons.

By the 1990s, consumer attitudes and lifestyles had changed with an increasing awareness of healthful cooking. Families also began experimenting in the kitchen with Asian and Mediterranean cuisines and Breville responded by developing high performance electric woks and health grills.

As health-conscience consumers grew in number, Breville recognized the need for a machine that would produce fresh and delicious juices. This led to the invention of the world acclaimed Juice Fountain™. Before the Juice Fountain™, making juice was a messy task. This remarkable piece of engineering removed the need to cut fruit.

All Breville® products are as beautiful as they are functional. Any kitchen will be enhanced by the contemporary, sleek designs that Breville® has to offer. From blenders and juicers, to toasters and coffee makers, Breville® lets you get the most flavor and nutrition from your food for better tasting, healthier eating. After all, you and your family deserve no less!
Shop Breville by Category
Free Shipping Both Ways · 24/7 Customer Service · 365 Day Return Policy