Boots: Free Shipping on styles you'll love!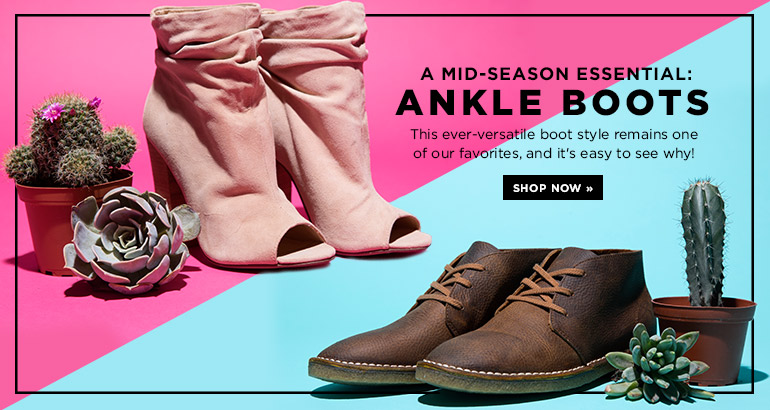 What our customers are saying about boots
Jul 4, 2015

Anonymous

Love these boots - bought a second pair because I was wearing them out. Comfortable, but give a slight heel for dress pants.

Jul 4, 2015

Sonya H

from

Hatfield, PA

Love these paddock boots. I use them with half chaps for riding and was able to ride in them right out of the box without any break in time. They feel durable. The zipper is high quality (metal) and the tongue is attached inside the boot, unlike many lower-priced paddock boots I have seen. The elastic on the sides ensures a good fit around the ankle. They are very easy to clean. I should note that my Ariat western boots are a generously roomy 9, where in these I had to go to the 9.5.

Jul 4, 2015

Mike

from

oregon

Purchased these boots for a 90 mile hike with backpack at Philmont, New Mexico. They were the only boots that really fit my feet but after 2 days on the trail the inner sole kept coming out as I walked. The trip was great but my feet are still not back to normal after 2 weeks. Not a good boot for this type of hiking. They are not waterproof at all. For light trail or around town these may work.
The Boot Shop @ Zappos
What's your story? Everyone has a story to tell and you can discover a wealth of information communicated clearly by a pair of boots. Adventure seekers, trail-blazers, hikers, fashionistas in booties, cowboys and motorcyclists all weave wonderful stories that captivatingly communicate character with their choice of boots.
Put your best foot forward with a boot from Zappos.com. Any situation you're about to step into, you can find a treasure of styles, selection and sizes that will get the job done. Is a birthday coming up? Don't give them the shaft! Give them a wonderful boot from Zappos.com!
Powerfully position yourself into a stylish stance for any situation! Zappos.com carries many boot brands such as: Ariat, Clarks, Diesel, Dr. Martens, Durango, Frye, Harley-Davidson, Hunter boots, Lucchese, Lugz, Nine West, Stuart Weitzman, The North Face, Timberland, and UGG.
Boots have been around for centuries. They've protected humans from the elements, and were specifically made for certain lifestyles as well as adorned the feet with a stylish statement. Boots allow you to do many things, such as embark on the edge of elegance, kick it with friends, traipse into a sticky situation, hop on your horse, kick start your motorcycle, power through a puddle, hike a mountain, or comfort your tired feet. We know boots were made for walking, so now let yours do some talking!
It's time to pull yourself up by your bootstraps! Keep the public on their toes and discover a new chapter of amazing adventures with your choice of boots. Take a step in the right direction. You've got the world at your feet with the fabulous styles of boots available at Zappos.com!