Sign Up

for

New Styles!

Be "in-the-know" when we add new styles of Revere to our website! Simply sign up and we'll notify you.

Zappos.com respects your privacy. We don't rent or sell your personal information to anyone.
About Revere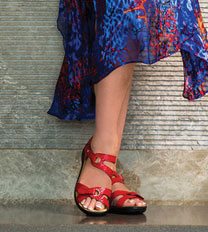 Style, personalized fit, and 'WOW' comfort, that's Revere Comfort Shoes.

As no two feet are the same, Revere's innovative Personalized Fitting System (PFS) allows you to customize your Revere sandals to deliver amazing comfort. Every sandal comes with a set of matching Strap Extensions, to further enhance your fitting options, regardless of whether you have foot problems, or simply narrow, medium or wide feet.

For those requiring that special fit due to the need to wear custom orthotics, Revere comfort footbeds are removable to allow you to insert your orthotics into open toe sandals, as well as our shoes.

In collaboration with leading foot health experts, Revere is designed and developed Down Under in Australia, bringing you a seductive collection of footwear, crafted using only the most premium leathers and materials. Most importantly, revere provides adjustability to fit many different foot types, without taking away from the styling of the range.
Free Shipping Both Ways · 24/7 Customer Service · 365 Day Return Policy