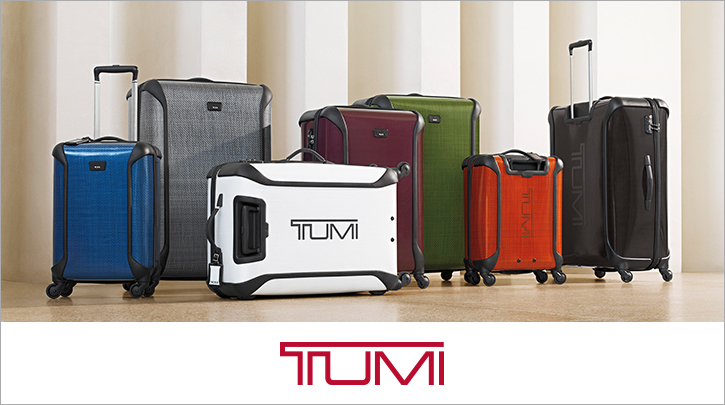 Get Notified
Sign up to receive email updates for new styles from this brand.
Tumi Reviews
Apr 20, 2014

Anonymous

from

Northeast

World Travel monthly for business, 2-6 night stays. Use overhead compartment. Cannot attest to checked bag wear. Handles not too wiggly (yet?). Con: Although smooth, wheels should be larger. Pros: -hard corner/"frame" -smooth -strong fabric -lightweight -well thought out interior -very professional looking (many compliments). Worth investment.

Apr 10, 2014

Tyson Deal

I was looking for a bag that could comfortably provide adequate packing space for a long weekend. I had several bags shipped from different companies but none came close to this Tumi. I have the green bag with orange accents and it looks fantastic. It is very spacious on the inside, and has loads of separate zippered compartments which I love (pockets for keys, charging cables, etc). I highly recommend this duffel.

Apr 4, 2014

Kate

from

MA

I order the red color because it appears to be a true red on the site. However, upon arrival it looks hot pink. I tried to bring it into to different lighting and convince myself that a professional, who is trying to be fashionable while be taken seriously, can carry it to executive meetings. I could not. If you are looking for a hot pink color, then this laptop bag is it! I like the bag so much that I have returned the hot pink version and have ordered it in black. I am disappointed about the red not being a true red but I will get over it once my black bag arrives!
About Tumi
The Tumi Story
With over 35 years of creating superior products for discerning professionals and frequent travelers, Tumi is recognized as the world's leading brand of prestige travel, business and lifestyle accessories. Tumi's success can be traced to its continual focus on its founding principles of design excellence, functional superiority, technical innovation and unparalleled quality.
Today, Tumi holds more than 125 patents for its design and engineering breakthroughs. In addition, Tumi has been consistently recognized by leading consumer publications as the "best" product in the travel and business categories. With ongoing introductions of cutting-edge collections and new technologies, Tumi's reputation as the leading innovator in the travel and accessories categories will be secure for years to come.