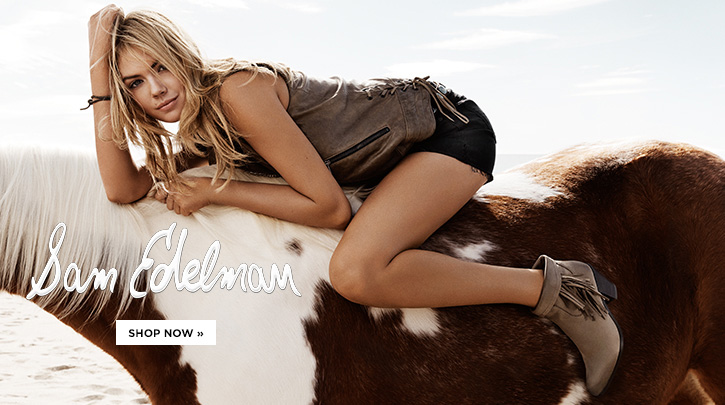 Get Notified
Sign up to receive email updates for new styles from this brand.
Sam Edelman Reviews
Posted: Sep 17, 2014 Reviewer:

These are the best flats I now own! They are super comfortable, and look great on. I will definitely be ordering in more colors. Love them!

Posted: Sep 17, 2014 Reviewer: from Washington, DC

This shoe is really super comfortable but I don't understand how it could look good with skinny jeans which is what I bought it for. The top is too wide and too low for the jeans to go over it and if you try to tuck them in it doesn't look right to me. I am returning. I'm not a fan of the brown bottom with black suede but I was going to take them to a shoe repair shop to dye the bottom black if I kept them. They can do that. If I didn't wear a size 4 and therefore have trouble finding shoes, I would pay more for something that was a more luxe bootie. This would be great for every day walking around if I liked the style better.

Posted: Sep 17, 2014 Reviewer:

Sue Steele

from

Atlanta GA

Really like my new sandals. Even though I wear a narrow these shoes were not too wide for me.
About Sam Edelman
The Sam Edelman® women's footwear collection is unlike anything else you've seen. It cleverly combines a youthful outlook with a worldly sensibility. Driven by a chic earthiness, Sam Edelman women's shoes are made to be lived in.
Sam Edelman women's shoes, women's sandals, and women's boots are affordable fashion. Unique fabrications and ornamentations are evident throughout the line. For contemporary women who don't want to sacrifice comfort for style, Sam Edelman shoes are the perfect fit.
Whether an updated classic or a cutting edge design, Sam Edelman shoes have an emphasis on comfort. From cute flats to bold platform sandals, the collection is as versatile as it is stylish. Sam Edelman makes shoes for the fully realized woman who uses her experience to get to where she wants to be.