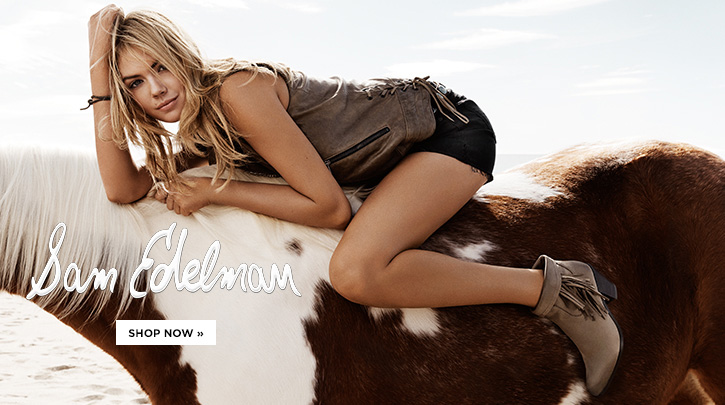 Get Notified
Sign up to receive email updates for new styles from this brand.
Sam Edelman Reviews
Posted: Jul 24, 2014 Reviewer:

I liked these shoes but they felt very different L from R. Also part of the glitz was already coming away from the leather so sadly returning them.

Posted: Jul 24, 2014 Reviewer:

Vivi

from

Miami, Fl

I was so excited to get these because they look so cute but they are so uncomfortable and run small. I am a size 9 and have always ordered my Sam Edelman GIGI's in 9. But these felt more like an 8. Unfortunately, I cannot recommend these sandals...

Posted: Jul 24, 2014 Reviewer:

Tricia Welch

from

United States

Beautiful shoe! Unfortunately the quality isn't the same as the plain leather Okalas. After ordering 3 pairs, I've given up hope of owning my dream shoe. On my first pair, the right shoe dug in across the top of my foot, on the second pair, the fur on right shoe was vibrant while the shoe on the left was very faded and pale. The third pair had the same problem as the first, only this time the left shoe was cut smaller and dug into the top of my foot. Normally, Okalas are so comfortable.
About Sam Edelman
The Sam Edelman® women's footwear collection is unlike anything else you've seen. It cleverly combines a youthful outlook with a worldly sensibility. Driven by a chic earthiness, Sam Edelman women's shoes are made to be lived in.
Sam Edelman women's shoes, women's sandals, and women's boots are affordable fashion. Unique fabrications and ornamentations are evident throughout the line. For contemporary women who don't want to sacrifice comfort for style, Sam Edelman shoes are the perfect fit.
Whether an updated classic or a cutting edge design, Sam Edelman shoes have an emphasis on comfort. From cute flats to bold platform sandals, the collection is as versatile as it is stylish. Sam Edelman makes shoes for the fully realized woman who uses her experience to get to where she wants to be.