Welcome to the Nike shop. Free shipping both ways - just do it!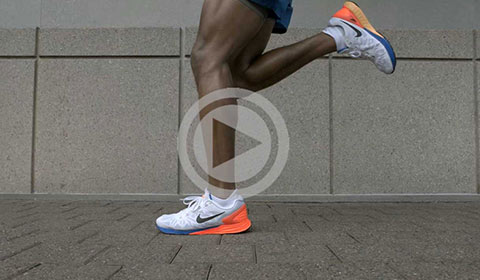 More ways to shop Nike
What our customers are saying about Nike
Posted: Sep 15, 2014 Reviewer: from

United States

4 stars for thin material (thinner than G87 if you are familiar with that Nike tank) but the rest of the tank is excellent for this hot Arizona climate. The fabric is extremely wicking and breathable. I purchased Fuchsia Force/Garnet combo which is not bright in real life... more of a cranberry red than bright Fuchsia, a little darker in front than picture on site. Be aware that this tank is very form-fitting and the straps are on the longish side for my petite 5'1.5" 34A frame (weight 104). It is also long, about hip length. I was going to return it and size up but have read reviews on other sites which mention the small is quite a bit larger than XS, especially in the straps. FYI, I purchased the Atomic Mango on 6pm, Zappos sister site, and was hoping it would be more peachy orange than yellow (photo is a washed out yellow). The color exceeded my expectations, a beautiful bright peach that is not neon construction cone orange.

Posted: Sep 15, 2014 Reviewer: from

Kansas City Missouri

My daughter loves these. They are comfortable, durable and well made. They are also a beautiful color. Thanks Zappos!

Posted: Sep 15, 2014 Reviewer: Cheryl Hunter from

Maine

I was very disappointed with these sandals. I got them for my husband because he wanted something with a 'cushy' strap over the foot for comfort. They started tearing on the sides only 1 month after purchasing them and now 3 months later the strap has ripped off. I bought them for him to bring on vacation and he couldn't even wear them most of the trip in July (we bought them in June). I expected more from a Nike product. While these were more narrow than usual they were not by any means tight on him.
About Nike
Nike offers a vast array of products for an active sports lifestyle. Because every athlete wants to be better, Nike is able to outfit an athlete from the top down with high performance shoes, clothing, socks, bags, watches and eyewear. Since today's sports are about creating great athletes and transforming them into great players, Nike is there every step of the way to enhance each training experience, making each workout count.

Top quality and performance are key to unlocking your inner potential. With a pair of Nike shoes beneath your feet and a Nike jacket to protect you from the elements, your goals will be within reach. No matter what your goals are, Nike knows that training and running are a way of life. Keep up with your active lifestyle and prepare for the game with the NikeFit apparel system.

If swimming is more your game, Nike swimwear has got you covered. From training to team swimwear, Nike remains at the forefront of new and innovative technologies. Nike is constantly striving to develop new fabrics for more comfortable and effective swimwear. Since harsh, chlorinated water is hard on swimsuits, Nike has created an answer with Nike NX fabric. This chlorine-resistant, colorfast nylon fabric can withstand long hours of training and competition while retaining its shape throughout the life of the garment. Excellent shape retention and soft, lightweight comfort can be found with Nike swimwear that utilizes Nike EVR-X poly fabric. This unique fabric blends in the revolutionary chlorine-proof Dow XLA™ fiber with a comfortable stretch for maximum performance and comfort.

Nike continues to seek new and innovative ways to develop superior athletic products, and creative methods to communicate directly with Nike consumers. Nike Free, Nike+ and Nike Sphere are just three examples of this approach. Nike has always been at the front of technical integration, whether it is from Bill Bowerman's wife's waffle iron outsole, the revolutionary Nike Pegasus, to Nike Air technology; Nike running shoes are always pushing the envelope on creativity. When it comes to creativity and functionality, Nike's motto is "Just do it."