Workout Shoes, Shipped Free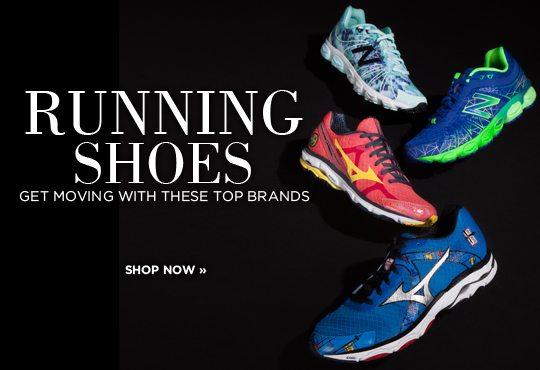 Workout Shoes
You don't have to be a first-class athlete to enjoy this selection. Everybody needs at least one great pair of athletic shoes! Whether you're into running, basketball, tennis, soccer, or just want to rock that athletic look without ever having to hit the gym (it's okay, we won't judge!), we have the perfect workout shoes for you.
Our athletic shoes come in every shape, size, and style imaginable. Need some bright and colorful new running shoes to go with your favorite workout bottoms? We've got that. Prefer the minimalist look for your workout shoes? That's fine, too! With tons of trainers from top brands like PUMA®, Converse®, and Saucony®, you're sure to find the right sneakers at Zappos.
So take a look around! Shop by activity, price, or appearance to make sure you get exactly what you need. Whether you're a long-time athlete or just beginning your fitness goals, Zappos carries the best athletic shoe styles to start you off on the right foot!
Latest Reviews for Workout Shoes
Posted: Jul 27, 2014 Reviewer: from Washington, DC

I found a blog that highly recommended Ryka shoes for Zumba classes. My last pair left me with irritated knees, so I was hoping that this shoe would do the trick, and am happy to say that I am very pleased. I gave it 4 stars for comfort because I normally wear a wide shoe and these only come in medium; however, the toe box is nice and large, but the shoe is narrow in the arch. A couple of Zumba classes took care of that! My other recommendation is to order the size you normally wear for tennis, not your regular work/dress shoes. The 8M was too small; the 9 1/2M is a perfect fit.

Posted: Jul 27, 2014 Reviewer: from

midwest

This order was my first for Zappos, but it won't be my last. I like this shoe very much. I don't know what size I wear because styles differ. The reviews said it ran small, so I ordered 5.5. However, the toe box is narrow top to sole. Side to side fits fine. So I returned the first pair and ordered 6. The left foot was still a little small, but after breaking in, is not uncomfortable; the right shoe is perfect. I would advise ordering up at least a half size, probably a whole size would be better. The arch is in the right place for me. I use it for walking--briskly--and working out at the gym. I had a little problem understanding the return website, but called Zappos. A very nice lady helped me, and the new shoes showed up within a day! Great experience.