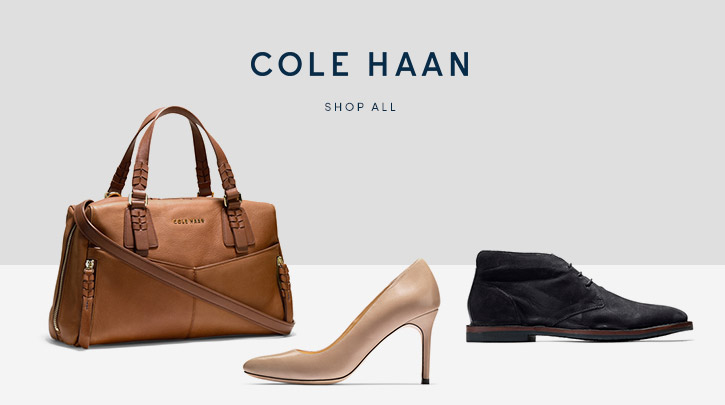 Get Notified
Sign up to receive email updates for new styles from this brand.
About Cole Haan
Born more than a century ago at the intersection of form and function, Cole Haan has been innovating ever since founder Trafton Cole started making resoleable shoes during the depression. After being bought by Nike in 1988, Cole Haan began introducing footwear with built-in air chambers, utilizing Nike's cutting edge technology to make everything from women's heels to wingtips more comfortable than they'd ever been. Today, the NYC-based brand takes its inspiration from the streets of New York City, offering a range of classic staples with their signature twist—from outerwear and handbags to heels and weekenders—that can stand up to the rigors of the city and still look good.
Latest Cole Haan Reviews
Oct 18, 2014

Anonymous

from

NYC

Best pair of heels that I own! These are by far the most comfortable pair of shoes I own. They do not and have never hurt me feet. Great classic style.

Oct 17, 2014

Anonymous

The people who said it is the most comfortable shoe ever are not being honest, or they are speaking for people who do not have an arch. I have an arch and these are the worst shoes ever. I cannot believe you are still trying to sell them at their original price. It is only after wearing them that I could tell how uncomfortable they are and of course you only accept them unworn. Since I hate the thought of letting this cost go to waste, I decided to give them another try today. I wore them into the office and once again they are horrible. My feet feel so low to the ground; while my toes are pressing forward.

Oct 17, 2014

Elizabeth W

from

United States

I'm normally an 8.5 in flats and found these to fit true to size. It took a couple wears to break them in, but now find them very comfortable. I have the same shoe in the black patent and find that one ran slightly smaller than the sandstone.