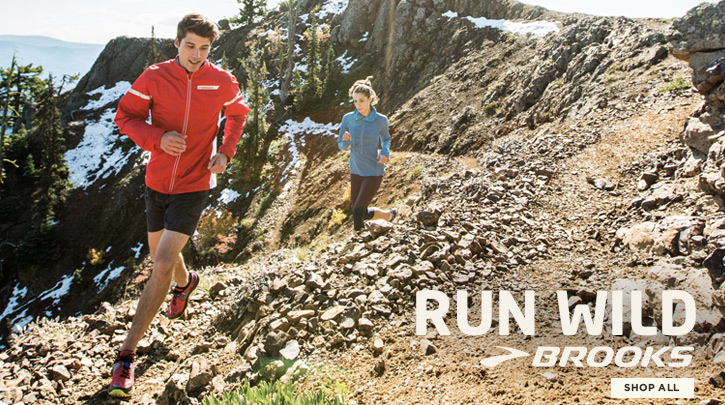 Get Notified
Sign up to receive email updates for new styles from this brand.
About Brooks
BROOKS® Sports, Inc. develops and markets a full line of performance running shoes and running clothes for runners and fitness enthusiasts worldwide. Known for their comfort and fit, BROOKS running shoes and running clothing are quickly becoming the performance gear of choice among runners who are serious about their running shoes and running clothes.

BROOKS® running is dedicated to delivering superior running shoes and running clothing. BROOKS® running has been responsible for some of the most significant advancements seen in running shoes today. Those innovations include the use of EVA for midsole cushioning, the development of the Diagonal Rollbar™ for stability, and the utilization of Podular Technology for outsole flexibility. BROOKS® innovation is evident in running clothes too with the use of Activent®, Power Lycra®, and way back in 1999, BROOKS® was the first company to use Dri-Release.

So when you're shopping for technically sound running shoes and running clothes, look no further than BROOKS running. Whether you need running shoes, or running accessories, BROOKS has got you covered so all you need to do is run.
Brooks Reviews
Sep 28, 2014

John Uhlemann

from

St. Louis, Missouri

I learned about over pronating from this site - I have it and it was causing ankle pains on hiking. These shoes are very comfortable right out of the box, and they solved the problem. They do run a bit short, and as usual, my notification of the size problem was followed one day later by receiving the correct size from Zappos! Finding shoes in narrow sizes that take orthotics is hard enough, but these are really good, and they are on this site.

Sep 28, 2014

David Kuykendall

from

Quakertown, PA

I wear orthotics for collapsing arches and plantar fasciitis. I also suffer with neuropathy, So, finding suitable shoes has been very difficult. These shoes are relative neutral control which works well with my orthotics. The only negative is that I would like to see a version of these more water/cold resistance for walking in the winter.