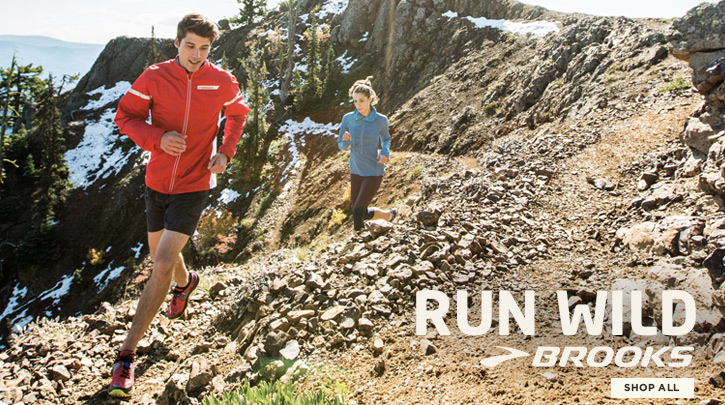 Get Notified
Sign up to receive email updates for new styles from this brand.
About Brooks
BROOKS® Sports, Inc. develops and markets a full line of performance running shoes and running clothes for runners and fitness enthusiasts worldwide. Known for their comfort and fit, BROOKS running shoes and running clothing are quickly becoming the performance gear of choice among runners who are serious about their running shoes and running clothes.

BROOKS® running is dedicated to delivering superior running shoes and running clothing. BROOKS® running has been responsible for some of the most significant advancements seen in running shoes today. Those innovations include the use of EVA for midsole cushioning, the development of the Diagonal Rollbar™ for stability, and the utilization of Podular Technology for outsole flexibility. BROOKS® innovation is evident in running clothes too with the use of Activent®, Power Lycra®, and way back in 1999, BROOKS® was the first company to use Dri-Release.

So when you're shopping for technically sound running shoes and running clothes, look no further than BROOKS running. Whether you need running shoes, or running accessories, BROOKS has got you covered so all you need to do is run.
Brooks Reviews
Oct 24, 2014

Anonymous

I love these. I had been running in Nike running shoes & my whole body paid the price. These shoes are comfortable, cute, supportive, and my back doesn't hurt after my run. I love them & will only buy Brooks from now on.

Oct 24, 2014

Megan Westemeier

from

United States

I love these shoes! This was my first pair of Brooks and I don't think I'll be switching to another brand any time soon. These have great support for my foot and there was no break in period at all for me. I normally wear a size 8.5 in regular shoes, so I ordered these in a half size bigger so my feet wouldn't be to cramped while running. I would definitely recommend these to anyone looking for a supportive running shoe.

Oct 24, 2014

Michael Esnard

Brooks Addictions are the best shoes I have ever worn. I wear either the running or walking shoe everyday. They are so supportive I no longer have to wear orthotics, which is a huge relief. They are terrific shoes.