Sign Up

for

New Styles!

Be "in-the-know" when we add new styles of Pony to our website! Simply sign up and we'll notify you.

Zappos.com respects your privacy. We don't rent or sell your personal information to anyone.
About Pony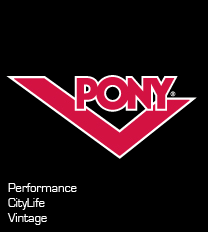 Born in Brooklyn in 1972, Pony shoes quickly became one of the most dominant and recognized sports brands in the 80's. Pony footwear was the brand of choice for the world's premier and iconic athletes including Pele, Muhammad Ali, Dan Marino, Lawrence Taylor, Earl Campbell, Reggie Jackson, Willie Stargell, Darryl Dawkins, Spud Webb, Earl Monroe, Bob McAdoo and Tracy Austin. Pony's recent signings of Randy Moss and Wilson Chandler are continuing the legacy of outstanding athletes who have proudly worn the Chevron.

Today, Pony's vision seeks to captivate the athletic shoe and clothing market with authentic style and superior performance. Pony sneakers and Pony clothing are inspired by a rich sport heritage that results in products that blend classic and innovative design with unique features and benefits. Pony shoes and clothing are the essence of this brand that is innovative, global, authentic, contemporary and irreverent.

Pony is one of the most dynamic and authentic sports brands in the athletic world. In 2006 Sporting Goods Business recognized Pony shoes as one of the 50 most recognized brands in the world. Pony footwear is not just a sports brand - it is a way of life.

Whether you're looking for Pony women's shoes, Pony men's shoes, or Pony original shoes, we've got all the Pony shoes you need!


Free Shipping Both Ways · 24/7 Customer Service · 365 Day Return Policy