Sign Up

for

New Styles!

Be "in-the-know" when we add new styles of Icon to our website! Simply sign up and we'll notify you.

Zappos.com respects your privacy. We don't rent or sell your personal information to anyone.
About Icon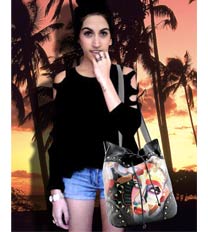 All about Icon

Icon shoes, Icon handbags and Icon accessories are wearable, functional conversation pieces. Personal, supple leather adornments, both contemporary and classical. Think Andy Warhol's Campbell's Soup can, Norman Rockwell's Kellogg's cereal ads, Gaugin's Tahitian bathing beauties, Degas' dancers, the Art Nouveau imagery of Gustav Klimt, and more--all of them, Icons.

Icon shoes, Icon handbags and Icon accessories are crafted of the softest, most sumptuous, top grain American leather. Icon uses an innovative, permanent printing process to bond images to leather. This revolutionary process creates exact replicas of fine art and insures that the images are intrinsic to the leather.

Launched in 2001 by a Hollywood filmmaker and art collector, Icon introduced the nation to Andy Warhol's Campbell Soup Can imprinted on leather comfort sneaker.

A bold use of color printed on soft, supple leather was unique in a world of brown and black leather shoes. By licensing the use of images from up-and-coming artists as well as masters like Monet, Van Gogh and Klimt, Icon created a phenomenon. The shoes quickly caught the attention of celebrities, media and that same year leading retailers were selling-out of these wild, new "conversation starters".

Soon the loyal Icon customer was collecting her favorite artists as well as wearing "some of the most comfortable shoes ever." Now the art lover could enjoy art all day long.

Icon has become a leader in the luxury, casual-comfort category of shoes and a trend setter in handbags and small leather goods. Icon takes pride in producing beautiful, wearable, works of art, expressing a woman's individuality with both function and style.

Icon is based in Burbank, California.

For more information, visit www.iconshoes.com or contact info@iconshoes.com.
Icon Brand FAQs
Free Shipping Both Ways · 24/7 Customer Service · 365 Day Return Policy