Sign Up

for

New Styles!

Be "in-the-know" when we add new styles of Two Lips to our website! Simply sign up and we'll notify you.

Zappos.com respects your privacy. We don't rent or sell your personal information to anyone.
About Two Lips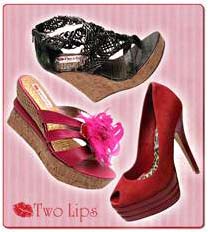 Two Lips® has been producing fun and unique women's footwear since 1982. Owner, Chahe Ghanimian, designs all of the shoes. He travels Europe and New York to view the most important trends in the market. Two Lips women's shoes combine the art of fashion with quality craftsmanship. Eye-catching rhinestones and beautifully crafted bead accents are sure to charm the heart of any fashionista!

Two Lips produces a collection of chic and comfortable shoes. From casual boots to dress shoes, the Two Lips footwear line also offers versatility. The goal of Two Lips is to offer quality shoes at an affordable price without compromising style.

With a beautiful range of silhouettes and fabrications, the Two Lips footwear line is sure to provide the perfect complement for any wardrobe. Choose cute sandals for a casual summer day or glamorous satin pumps for a special occasion. Two Lips shoes have an innovative design and dependable fit.
Two Lips Brand FAQs
Shop Two Lips by Category
Free Shipping Both Ways · 24/7 Customer Service · 365 Day Return Policy