Sign Up

for

New Styles!

Be "in-the-know" when we add new styles of Dockers Men's to our website! Simply sign up and we'll notify you.

Zappos.com respects your privacy. We don't rent or sell your personal information to anyone.
About Dockers Men's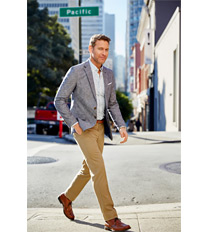 The Dockers® brand has been a cornerstone of menswear for over thirty years. First introduced in 1986 in San Francisco, California, this American classic has been at the heart of the casual movement dressing men for every occasion from head-to-toe. Their thoughtful innovations and meaningful details have always served a purpose, not a trend. Today, the Dockers® brand continues to be America's favorite khaki offering a wide range of apparel and accessories with no compromises in quality, just versatile, essential style. An iconic brand for good guys everywhere, the Dockers® brand is a division of Levi Strauss and Co. and available worldwide in more than 59 countries and in six continents.
Shop Dockers Men's by Category
Free Shipping Both Ways · 24/7 Customer Service · 365 Day Return Policy