Sign Up

for

New Styles!

Be "in-the-know" when we add new styles of Palladium Kids to our website! Simply sign up and we'll notify you.

Zappos.com respects your privacy. We don't rent or sell your personal information to anyone.
About Palladium Kids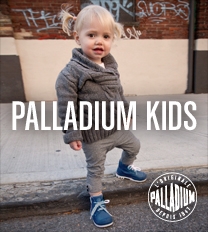 Urban Utility - Global Mobility. For those who know you can't see the world from the seat of a bus, the berth of a train, the railings of a boat or the porthole of a plane, Palladium children's shoes are made for you. Specifically designed, constructed and street approved for international foot travel, Palladium shoes are the ultimate travel shoe.

Named for the tire rubber from which their soles were originally made, Palladium shoes for boys and girls are famous for their functionality and durability. No wonder Palladium shoes have been the global wayfarer's shoe of choice since 1947.

Whether you're looking for Palladium men's shoes, Palladium women's shoes, or Palladium kid's shoes, Zappos.com has got you covered!
Shop Palladium Kids by Category
Free Shipping Both Ways · 24/7 Customer Service · 365 Day Return Policy