Sign Up

for

New Styles!

Be "in-the-know" when we add new styles of Manzella to our website! Simply sign up and we'll notify you.

Zappos.com respects your privacy. We don't rent or sell your personal information to anyone.
About Manzella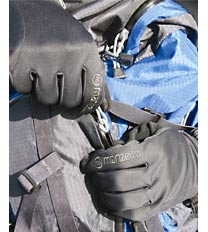 Manzella® has spent the last 25 years designing best-of-class gloves for every activity. Gloves are Manzella's singular focus.

Manzella gloves come in a variety of activity-specific options for outdoor, hunting, running, and even uniform activities for those in public service. Manzella gloves also come with a warmth rating of warm, warmer, or warmest, so customers can choose from lightweight to more insulated gloves to match their level of desired protection. Featured technology like Touch Tip™, the material on the index finger and thumb that provides touchscreen compatibility so the wearers never have to remove their gloves, and the nighttime protection of 360º Reflective design, is part of Manzella's continued effort to enhance the glove user's experience.

A key advancement is their women's gloves, which have gone through extensive studies to develop gloves designed to specifically fit the longer length and narrower width of women's hands, providing a more comfortable and sure fit.

Manzella will continue to develop gloves that offer the perfect balance of warmth, mobility, comfort, grip, and breathability.
Shop Manzella by Category
Free Shipping Both Ways · 24/7 Customer Service · 365 Day Return Policy