Sign Up

for

New Styles!

Be "in-the-know" when we add new styles of Kenneth Cole Sportswear to our website! Simply sign up and we'll notify you.

Zappos.com respects your privacy. We don't rent or sell your personal information to anyone.
About Kenneth Cole Sportswear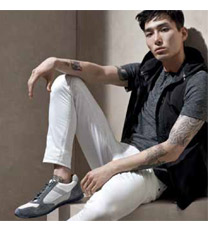 In 1982, Kenneth Cole wanted to start a company. He had an idea, a plan and line of women's footwear. What he didn't have were the resources for space at a New York shoe show. Undaunted, Kenneth promptly changed the name of his company to Kenneth Cole Productions and applied for a permit to shoot a film entitled "The Birth of a Shoe Company." Three and a half days and 40,000 pairs of shoes later, Kenneth Cole Productions was off and running.

Having grown from its footwear roots, Kenneth Cole™ is now a full lifestyle brand, available in more than 70 countries around the world. Kenneth Cole Productions is a brand that is forever committed to pushing the boundaries of convention and embracing the notion that, "Today is not a dress rehearsal."

A visionary who believes that business and philanthropy are interdependent, Kenneth Cole's stylish modern collection of clothing, footwear and accessories is refined yet functional. By combining fashion with social activism, the company inspires others to look good doing good.
Shop Kenneth Cole Sportswear by Category
Free Shipping Both Ways · 24/7 Customer Service · 365 Day Return Policy