Sign Up

for

New Styles!

Be "in-the-know" when we add new styles of Capita to our website! Simply sign up and we'll notify you.

Zappos.com respects your privacy. We don't rent or sell your personal information to anyone.
About Capita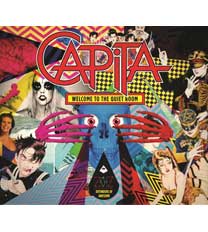 CAPiTA Snowboarding is based on the fishing docks of Seattle, Washington and is recognized throughout the industry for unique graphics, progressive product, and world-class athletes. Founded in 2000, this is the 12th collection using the finest materials, meticulous construction and award winning design.

CAPiTA has not only teamed up with the most respected factory in snowboarding but has refined their technical designs while implementing innovative new shaping theories and materials. This has stepped up the freestyle specific snowboard construction for everyone out there.
Free Shipping Both Ways · 24/7 Customer Service · 365 Day Return Policy