Sign Up

for

New Styles!

Be "in-the-know" when we add new styles of Worn Jeans to our website! Simply sign up and we'll notify you.

Zappos.com respects your privacy. We don't rent or sell your personal information to anyone.
About Worn Jeans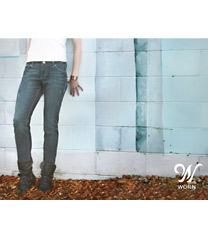 WORN represents old world hand-crafted apparel with an artisan feeling and a broad appeal to our modern customer.

The WORN woman is not a follower, never was.

She is educated, independent and fashion savvy.

She is ageless and always in vogue.

She is body conscious and youthful.

She is not caught up with staying young, just feeling young.

She may be single, married, a mother, an athlete, or a professional, but most importantly she is comfortable in her own skin.

She represents a very defined and under-served customer whom WORN has addressed.

The WORN man is confident in his own personal style. He wears jeans around the house most weekends and out to casual dinners at his favorite spots.

He's not influenced by fads or the latest trends. He develops a strong loyalty to brands that provide him with quality products and timeless styles.

He seldom shops for clothes; he leaves that to his significant other, but only because he knows that she enjoys shopping for him and he is confident that she knows what suits him.

He is in control of his own destiny. He owns his own home in a quiet, well-established neighborhood, but isn't too far from the city life that he enjoys. His professional career is rewarding and his value to his employer is obvious.

He values his life outside of work. He enjoys a large circle of friends, but truly values his small nucleus of intimate friendships he's maintained since his college days.

He is comfortable in a wide variety of circumstances, but is most comfortable at home, in his jeans.

"WORN to wear, WORN to live, WORN to love."
Shop Worn Jeans by Category
Free Shipping Both Ways · 24/7 Customer Service · 365 Day Return Policy