Sign Up

for

New Styles!

Be "in-the-know" when we add new styles of T.U.K. to our website! Simply sign up and we'll notify you.

Zappos.com respects your privacy. We don't rent or sell your personal information to anyone.
About T.U.K.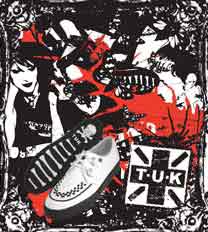 T.U.K.shoes - Born in England, raised in California. T.U.K. is Rock n' Roll inspired footwear for men, women, and children. T.U.K. strives to produce original and creative styles to fit the eclectic tastes of people whose lives revolve around music, art, and fashion.

T.U.K. styles have been a staple of the underground music scene for decades. T.U.K. creepers, T.U.K sneakers, T.U.K boots and T.U.K flats all carry a certain air of edgy, rebellious appeal. Every pair of T.U.K. shoes are made with the bold and fashionably daring in mind.

T.U.K. shoes are all about individuality, and the T.U.K. customer embraces their own unique sense of style. They are inspired by a culture of non-conformists and take inspiration from the music and art all around them. T.U.K shoes and T.U.K boots are sought after worldwide for their traditional look and craftsmanship.
Free Shipping Both Ways · 24/7 Customer Service · 365 Day Return Policy