Sign Up

for

New Styles!

Be "in-the-know" when we add new styles of R.E.D. to our website! Simply sign up and we'll notify you.

Zappos.com respects your privacy. We don't rent or sell your personal information to anyone.
About R.E.D.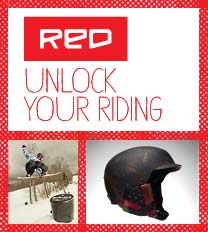 Founded in 1996, R.E.D designs helmets that combine supreme fit, fashion-forward style and cutting edge technology made for snowboarders, by snowboarders. Driven by the creative influences of boardsports and their snowboard team, R.E.D. allows every rider to go big and ride hard.

R.E.D is all about progress: visualizing your next trick, ignoring the drop-in jitters, hiking the pipe 'til it's dark, slamming then getting back up until you stomp it. From connecting those first turns to dialing in a double cork, protection equals confidence-and it's all about taking what you know to that next level. If you're ready to unlock your riding, welcome to R.E.D.
Free Shipping Both Ways · 24/7 Customer Service · 365 Day Return Policy