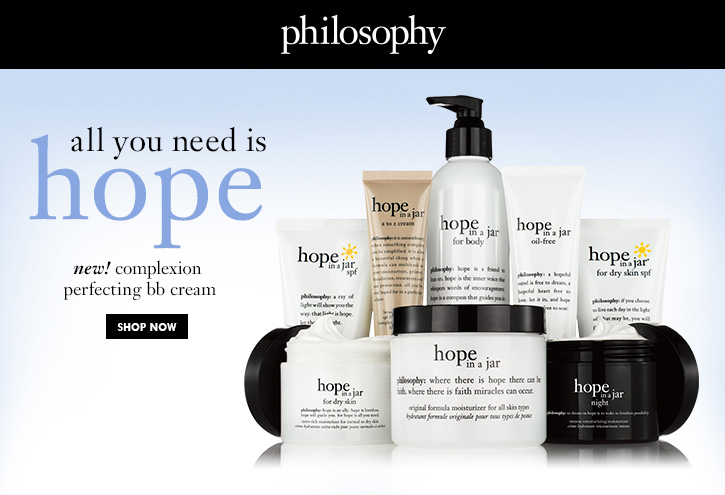 Get Notified
Sign up to receive email updates for new styles from this brand.
Reviews for Philosophy
Posted: Feb 8, 2014 Reviewer: from

Clermont, Fl

Great, gentle product. I like to rub it into my skin with barely any water, then once I have a nice even film on my face, add water to foam it up. I use a different cleanser (glycolic) at night so it's nice to use something gentle, yet effective in the morning. After using, my skin feels smooth and clean, yet not tight and dry.

Posted: Feb 1, 2014 Reviewer: from

Iowa City, IA

I love this combination of lip care products. My favorite is the sugar based peppermint scrub which exfoliates your lips. I would give this 5 stars on its own. The peppermint gloss is very soothing and seems to do a good job of staying on my lips rather than coming off right away. That is if I can keep from licking it off. It is peppermint and I can't help it. It does have a high gloss and like most lip gloss product your hair will stick to it if they come in contact with each other. No episodes of chapped or cracked lips all winter with daily use of both of these products and I am outdoors frequently. I even gave one to my sister for a Christmas gift as it one of my favorite finds of the year.

Posted: Jan 27, 2014 Reviewer: from

USA

Nice surprise. I normally do not like fruity shower gel. Just wanted to try something different from the honey and cake flavored shower gels. I've smelled other Philosophy gels in retail stores that are fruity that are popular, to me they smelled gross. Decided to buy this one online, what intrigued me enough to buy it was the word glazed sounded a bit more interesting then cherry, mango, etc. When I first opened it I was so, so. Not bad yet not great either. Yet when I used it even just once, I was delighted on how great it smells. To me it smells just like raspberry sorbet. The sorbet that has a bit of extra fruit mixed in with it. As far as softening. I have not noticed any softening of the skin since I've been using any of the Philosophy shower gels. This shower gel has a nice lather. The scent is a perfect spring scent. The sweet smell is just a little bit different then a regular raspberry, to me it smells less young (then some of the scents) which a pleasant surprise.
About Philosophy
Philosophy is a brand that approaches personal care from a skincare point of view. They believe in miracles and the beauty of the human spirit.

Philosophy was founded in 1996 by Cristina Carlino, a cosmetic industry visionary with over 30 years' experience in clinical skincare and beauty. The first company Christina founded was a medically-based skin care line distributed to the world's leading plastic surgeons and dermatologists. From there, she expanded her inspirational vision to create Philosophy. Her goal was to bridge the gap between what was offered in doctors' offices and retail, so women everywhere could personally access leading skincare technologies.

The brand redefines beauty under the overarching theme that everyone is beautiful. They celebrate the idea that there is only one of you in this world and that you must honor your existence. Their award-winning skincare, beautifully clean fragrances, indulgent bath and body products, and joyous gifts are designed to help you feel and look your best.

Philosophy offers some of the finest, most well-respected, innovative skincare available today. And as advanced skincare experts, their revolutionary formulas address multiple skin concerns in order to help you achieve a radiant, healthy-looking complexion. Working closely with dermatologists and scientists means that Philosophy skincare offers revolutionary ingredients, breakthrough formulas and advanced technology. They are designed to not only deliver dramatic results but to enhance the integrity of your skin.

Children encourage Philosophy to be creative, fun and live in the moment. Children remind them to believe in magic and to color outside of the lines. Philosophy uses lowercase writing and children's photos in their packaging to remind us to live life with curiosity, wisdom and joy. Every word has meaning, every sentence a story. They encourage you to enjoy the conversation and express your own voice by discovering your favorite products and philosophies.

To be a super model, all you really need to be is a super person. With Philosophy, being super is easily achieved!