Sign Up

for

New Styles!

Be "in-the-know" when we add new styles of Keurig to our website! Simply sign up and we'll notify you.

Zappos.com respects your privacy. We don't rent or sell your personal information to anyone.
About Keurig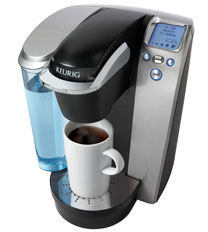 The word Keurig® is derived from the Dutch word for excellence, and Keurig lives up to its name. Since 1998, Keurig has revolutionized the way we drink coffee with its innovative K-Cup® technology for brewing a single cup at a time. The K-Cup allows coffee lovers to prepare a cup of gourmet coffee in less than a minute without grinding beans, measuring or dealing with filters and cleanup.

As the leading single-cup brewing system in North America, Keurig aims to provide consumers with gourmet beverage brands and exceptional customer service, enabling everyone to enjoy the perfect cup. Keurig believes that coffee should always be served fresh to evoke the comforting experience of the local coffee shop no matter where you are. With over 200 varieties of K-Cup to choose from, not only coffee drinkers, but also lovers of tea, cocoa, cider and more, have discovered the delicious ease of preparing just enough to drink quickly and efficiently.

Vue™ is the latest innovation from Keurig, a new brewing system that allows users to select custom strength, brew larger volumes and set brewing temperature according to personal preference. Compatible with Vue Packs instead of K-Cups, Vue technology allows adjustment of water pressure, time and airflow to customize each beverage.

In addition to high-quality brewing systems and a wide variety of branded beverages, Keurig offers accessories to enhance your experience including water filters for great taste and storage solutions to organize K-Cups and Vue Packs.
Free Shipping Both Ways · 24/7 Customer Service · 365 Day Return Policy