Sign Up

for

New Styles!

Be "in-the-know" when we add new styles of Flux to our website! Simply sign up and we'll notify you.

Zappos.com respects your privacy. We don't rent or sell your personal information to anyone.
About Flux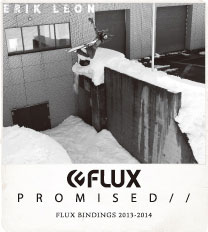 Flux Bindings is going on its 20th year and has continuously been at the forefront of snowboard binding technology. Flux focuses on quality bindings to fit your needs and has embraced the basic definition of FLUX— to fuse and make fluid.

Being known for the best fitting and most durable bindings to date, Flux has strived to create new technology to keep up with the boarders who ask for a little more in their gear.

Flux has introduced exclusive and extreme highbacks, a renewed baseplate design, updated straps, and several other features to make these the lightest and most form fitting design to ever hit the snow. PROMISED.
Free Shipping Both Ways · 24/7 Customer Service · 365 Day Return Policy