Sign Up

for

New Styles!

Be "in-the-know" when we add new styles of Diesel Kids to our website! Simply sign up and we'll notify you.

Zappos.com respects your privacy. We don't rent or sell your personal information to anyone.
About Diesel Kids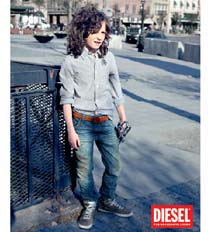 Diesel is an innovative international design company, producing a wide-ranging collection of jeans, clothing and footwear for children. Diesel is a leader in pioneering new styles, fabrics, manufacturing methods and quality control to guarantee an outstanding product for boys and girls.

Diesel has long been a leading pioneer in denim and casual fashion for children, known for moving outside and ahead of trends in its industry. Continually attracting new young fans from all around the world, the label´s cult international following spans ever farther from the tranquil rolling hills of Molvena in northern Italy, home of the company's world headquarters. Despite Diesel´s extraordinary growth, its philosophy is the same as when it was created in 1978: it is still a brand that stands for passion, individuality and self-expression. Today, Diesel continues to blaze its own trail, creating fusion footwear and apparel for infants, toddlers and children.

Diesel children's clothing and footwear designs do not follow established trends. It is innovative and at times a bit radical, but it always shows careful attention to detail and focus on the selection of quality materials and production techniques. Diesel kid's shoes and Diesel kid's clothing lines effectively precede trends and do not respond to them, with a constant emphasis on quality. The independent working methods within the company translate to a lifestyle attitude - the Diesel way.
Shop Diesel Kids by Category
Free Shipping Both Ways · 24/7 Customer Service · 365 Day Return Policy