Women's Dress Pants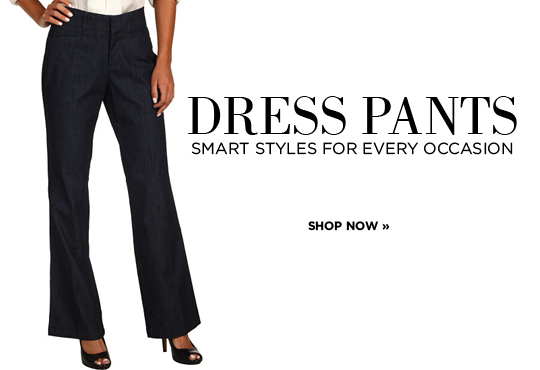 Women's Dress Pants
Whether you're headed to the workplace or to a formal gathering, find the perfect dress pants right here!
At Zappos, we have plenty of colors and patterns to choose from. Try out a pair of flattering flared dress pants to go with your favorite dressy oxfords. Keep it cool with a more neutral pair of flat front khakis. Whether you're going for a bold business look or something more formal and trendy, we have exactly what you need.
With selection like this from top brands like Dockers®, NYDJ, and Calvin Klein®, you'll always be dressed to impress.
Latest Reviews for Women's Dress Pants
Posted: Jul 3, 2014 Reviewer:

I love the feel, style and torso-fit of the pants, but I am disappointed by how long they are. I wear a size 16 and I am 5'5" - I ordered the Short inseam and wearing 2" heels they are still about 2" too long on me.

Posted: Jun 26, 2014 Reviewer:

Julian Thurston

from

United States

I can't see a place on the website for submitting comments regarding descriptions. But these pants clearly do not have "back welt pockets." These pockets are fake. Zappos, please quit describing pants as having "front and back welt pockets" when the pockets don't really exist. It is infuriating to think I'm finally getting a pair of women's pants with pockets, only to find out it's not true after all.