Shop Leather Couture by Jessica Galindo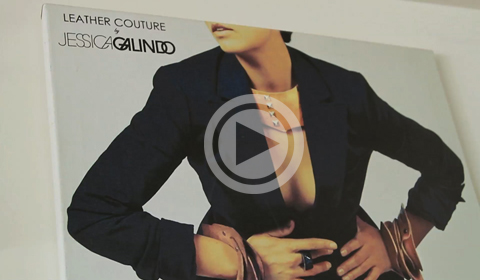 About Leather Couture by Jessica Galindo
Beginnings and Inspiration:
Leather Couture by Jessica Galindo was launched in 2009 as the love child of her successful fine art career and education from FIDM in Los Angeles. As an artist, she has received accolades for her styling and design work. Jessica Galindo is excited to be taking her keen sense of craftsmanship and style from the wall of the gallery to the body.
Drawing inspiration from all the facets of modern life, Jessica has created a line of leather accessories that reflects the world around her. From tribal arts, to the walls of MoMa and the runways of Paris, the talented designer has found a unique language to inspire both your emotions and your wardrobe.
Handmade Craftsmanship:
Each piece from Leather Couture is handmade and assembled by the artist in processes that can take anywhere from several hours to several days to produce. Jessica has spent years travelling, hand picking items she felt connected with her and matched her aesthetic. Every piece is created from various leathers from across the hide. Hand-painted, tooled and embellished, Jessica works with an infinite number of variations on leather, dye, finish and detail to create her one-of-a-kind pieces.
Leather Couture Care:
In caring for your Leather Couture pieces, do your best to avoid getting the leather wet. The outside painted portion of your Leather Couture item is treated to bead water off, however, the inside is left untreated. This is an intentional part of the design process to allow each piece to form to your contours, becoming a natural extension of you and your personal style.