Sign Up

for

New Styles!

Be "in-the-know" when we add new styles of Cuisinart to our website! Simply sign up and we'll notify you.

Zappos.com respects your privacy. We don't rent or sell your personal information to anyone.
About Cuisinart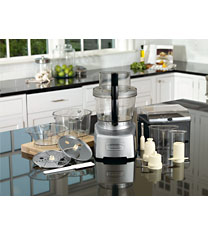 When the food processor was introduced in 1973, it wasn't known as a food processor; it was commonly referred to as a Cuisinart®. The rest is culinary history. The Cuisinart® food processor made quick and easy work of chopping, dicing, and puréeing ingredients to create healthy, great-tasting meals in restaurants as well as in the home kitchen.

Today, under the stewardship of the Conair® Corporation, Cuisinart® has expanded its kitchenware line to include coffee makers, toasters, programmable slow cookers, hard anodized skillets, ice cream makers, stick blenders and even popcorn makers! And yes, Cuisinart® still produces the best food processors in the industry.

Innovation has always been the key to success at Cuisinart®. Uncompromising quality in materials and design assures each Cuisinart® product will impress and delight those who seek only the best in culinary tools. Highly regarded by professional chefs, Cuisinart® branded products can help raise the level of expertise in the novice cook as well. An ordinary sauce can take on a whole new texture with the use of a Stick Blender (a.k.a. boat motor), and simple white rice will steam to fluffy perfection with a Fuzzy Logic Rice Cooker. There's no limit to creativity in the kitchen with the help of thoughtfully designed cooks' tools from Cuisinart®.

Embrace the world of fine food with Cuisinart®. "Savor the Good Life®."
Shop Cuisinart by Category
Free Shipping Both Ways · 24/7 Customer Service · 365 Day Return Policy