Sign Up

for

New Styles!

Be "in-the-know" when we add new styles of Vivienne Westwood Gold Label to our website! Simply sign up and we'll notify you.

Zappos.com respects your privacy. We don't rent or sell your personal information to anyone.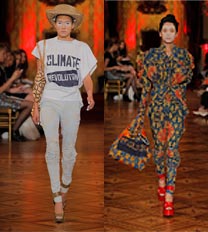 The Vivienne Westwood Gold Label collection is truly a treasure of wild beauty. Are you willing to unlock the door to your soul? Do you dare to discover your divine essence? Become the charismatic character you've always longed to be! Escape to enchantment and lose yourself in a landscape of luxury where passions run wild! Transform into a memorable masterpiece painted passionately in the glory of a gorgeous garment from Vivienne Westwood Gold Label!

Allow the Vivienne Westwood Gold Label Collection to awaken your soul from the slumber of society. Move out of mainstream monotony. Start a new chapter and pen your prose with the indelible ink of enchanting excess that will allow you to realize your divine destiny. Pop off the page as a stunning siren scripted in the romance of a divine dress, jacket, stunning suit, sexy skirt, tempting top, tailored trouser, or sublime sweater by Vivienne Westwood Gold Label collection.

Vivienne Westwood is provocative, awe-inspiring, avant garde, unique, rebellious, and a true original. When you own a garment by Vivienne Westwood, you own a piece of art that stands the test of time.

Always a cut above the rest, Vivienne Westwood studied the tailoring techniques of historical garments using time-honored techniques to brand her own interpretation of style. Her self-taught, unique vision brings a passion of living and exciting feminine expression into her garments. Vivienne Westwood is known for her asymmetrical cuts and delightful draping techniques which masterfully transform the body into an eye-catching art form.

Vivienne Westwood is one of most fabulous and influential designers of all time. She was born on April 8, 1941 as Vivienne Isabel Swire. She taught primary school in North London. Vivienne's first husband was Derek Westwood. She had one son with Derek, named Ben, who later became a photographer.

Vivienne met Malcolm McLaren who was a friend of her brother. Malcolm and Vivienne became friends, and Malcolm faked being sick for awhile to get Vivienne to take care of him and to be near her. Malcolm McLaren was the manager for the Sex Pistols, and Vivienne designed the clothing for the band. Vivienne Westwood also designed clothing for the New York Dolls and other bands. Vivienne was one of the first original designers when the punk movement started. Many of her garments are now collectibles. The V&A museum in London had an exhibition of Vivienne Westwood styles from 2004-2005.

In 1970, Malcolm and Vivienne opened a shop on 430 King's Road in London called Let It Rock. They sold clothing targeted at the London Teddy Boy scene. Vivienne designed clothing for the store. The shop eventually went through a few incarnations. In 1972, the store became Too Fast to Live Too Young to Die and featured T-shirts with provocative slogans, leather clothing, and garments with zippers and chains. In 1974, the shop transformed again. It was called Sex and featured S&M clothing. Sex became synonymous with the punk scene. Then the shop became Seditionaries. Today, Vivienne Westwood's World's End iconic boutique carries her limited edition special clothing, shoes, and accessories.

Vivienne and Malcolm's son is Joseph Corre. Joseph Corre founded the women's lingerie company Agent Provocateur and now designs his own menswear line along with Simon "Branzley" Armitage, named A Child of the Jago.

Controversy surrounds the style of Vivienne Westwood. Supermodel Naomi Campbell famously took a tumble modeling nine inch platform shoes at a 1993 Vivienne Westwood Anglomania fashion show. The incident made these shoes famous. Always pushing the envelope, Vivienne Westwood excitingly experiments with the extremes of fashion.

In 1992, Vivienne Westwood married her current husband and creative partner, Andreas Kronthaler. In the same year, Vivienne caused another controversy when she received the Order of the British Empire award. She twirled in her skirt and was knicker-less! She repeated the incident again in 2006 when she met the Prince of Wales.

Vivienne has always been a caring and political person. In 2005, she teamed up with British civil rights group Liberty to launch exclusive limited design T-shirts. One reads, "I AM NOT A TERRORIST, please don't arrest me!" The other shirt reads, "Liberty - Throw Away the Key."

Vivienne Westwood collections include four women's lines: Gold Label, Red Carpet, Red Label, and Anglomania. She has a men's line appropriately titled MAN. She also has a World's End line that features her classic pieces from the Vivienne Westwood archive. Vivienne Westwood also designs a collection of bags, shoes, sunglasses, eight perfume lines, and has multitude of stores all over the world!

"You have a much better life if you wear impressive clothes." - Vivienne Westwood.
Free Shipping Both Ways · 24/7 Customer Service · 365 Day Return Policy