Sign Up

for

New Styles!

Be "in-the-know" when we add new styles of London Fog Kids to our website! Simply sign up and we'll notify you.

Zappos.com respects your privacy. We don't rent or sell your personal information to anyone.
About London Fog Kids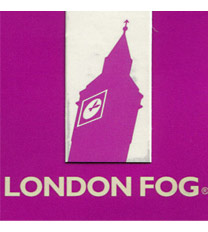 London Fog® is a name that has international recognition and universal appeal. London Fog has always been at the forefront of outerwear design and construction, using the latest materials and methods in order to make a superior protective garment. With London Fog Kids, London Fog extends its offerings to childrens outerwear that is warm, protective, comfortable, affordable, and made to last.

Established in 1927, London Fog has a history of innovation and mass appeal. London Fog pioneered the use of technologically-advanced materials in their outerwear and holds patents in processes used to make their great outerwear even better. In the 1960s London Fog went public and their style became truly international. London Fog Kids continues the tradition, making some of the world's best rainwear and accessories.

London Fog Kids outerwear is made to exacting standards. With London Fog Kids clothing, a whole new generation is growing up loving the international style and appeal of London Fog. London Fog Kids jackets are reliable, stylish, and priced just right for your family. London Fog: tried, true, and tested.
Shop London Fog Kids by Category
Free Shipping Both Ways · 24/7 Customer Service · 365 Day Return Policy