Sign Up

for

New Styles!

Be "in-the-know" when we add new styles of Metal Mulisha to our website! Simply sign up and we'll notify you.

Zappos.com respects your privacy. We don't rent or sell your personal information to anyone.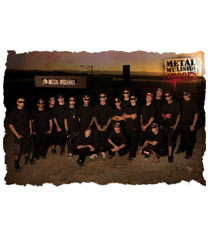 Metal Mulisha is the world's most notorious Freestyle Moto-X Team and Action Sports brand. Since its inception, Metal Mulisha has been fueled by its rebel attitude and high octane approach to life. It has now grown into a global powerhouse that is identified by its unique blend of Streetwear, Fashion and Adrenaline!

Metal Mulisha is for the rider looking to break tradition. Keeping close to its roots in Motocross, Metal Mulisha has gone on to produce Metal Mulisha apparel for men, women, and kids. Metal Mulisha seeks to keep you lookin' fresh in their clothes. Backed by world class athletes and team riders such as Brian Deegan, Jeremy Stenberg aka Twitch, Takayuki Higashino, Tyler Evans, Ronnie Faisst, Renato "Babalu" Sobral, Colin Morrison and Trigger Gumm to name a few.

Metal Mulisha dominates the world of fresstyle motocross with innovative designs incorporating Metal Mulisha shirts, Metal Mulisha hoodies, Metal Mulisha boardshorts, for men, women, and kids. Every moto-x fan knows that nothing compares to the raw offerings of Metal Mulisha clothing. So keep yourself staying fresh with Metal Mulisha and join the domination.
Free Shipping Both Ways · 24/7 Customer Service · 365 Day Return Policy