Sign Up

for

New Styles!

Be "in-the-know" when we add new styles of Melie Bianco to our website! Simply sign up and we'll notify you.

Zappos.com respects your privacy. We don't rent or sell your personal information to anyone.
About Melie Bianco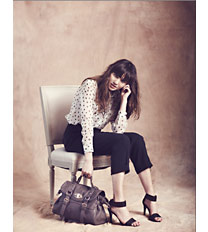 Melie Bianco's® high-quality bags bring a boutique aesthetic to accessories without breaking the bank. Their philosophy is to give the customer affordable luxury with designer-quality styles, and since 2003, they've succeeded in creating lavish accessories sought out by the fashion elite.

Melie Bianco's stylish hand bags are born from Melissa and William – a husband and wife team – who decided to found a family-owned accessory company with the value-appreciating shopper in mind. Melissa's design-school education can be found in the wide array of totes, shoulder bags, clutches and other styles of hand bags. She's always looking to make a bag more affordable but trendy. This keen eye for detail and material can be found in the high-quality faux leather that's so gorgeous it can fool the most discriminating eye.

From the boutiques of Los Angeles to world class fashion magazines, Melie Bianco's vegan-friendly bags are sure to find a place in any wardrobe. The company now commands a large share of the vegan handbag market while remaining focused on their family-owned business. Get ready to woo with a Melie Bianco bag.
Shop Melie Bianco by Category
Free Shipping Both Ways · 24/7 Customer Service · 365 Day Return Policy