Sign Up

for

New Styles!

Be "in-the-know" when we add new styles of Vicini to our website! Simply sign up and we'll notify you.

Zappos.com respects your privacy. We don't rent or sell your personal information to anyone.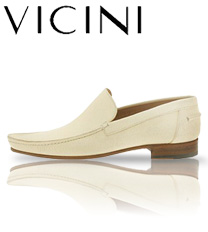 About Vicini

Vicini is renowned for creating sophisticated, elegant luxury footwear. Season after season, Vicini delivers innovative, fashion-forward designs.

Made in Italy from fine fabrics and leathers, Vicini shoes are known for superior quality and meticulous attention to detail. Vicini creates modern men's shoes for work, casual men's shoes for the weekend, and refined men's shoes for day and evening.

With such an incredible range of styles and fabrications, the Vicini men's shoe collection is sure to meet all of your fashion footwear needs. Whether you choose tailored Vicini loafers, fashionable Vicini boots or casual Vicini sandals, you will not go unnoticed.
Free Shipping Both Ways · 24/7 Customer Service · 365 Day Return Policy