Boys' Clothing: For serious play.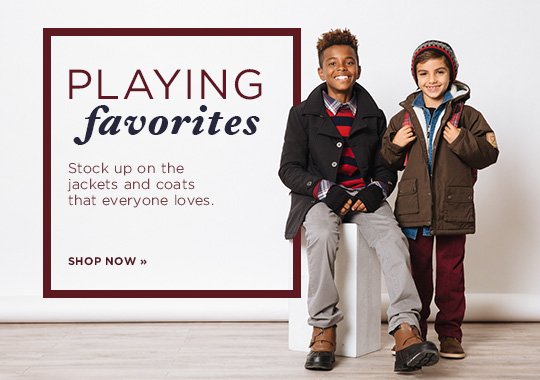 Latest Boys Clothing Reviews
Posted: Nov 22, 2015 Reviewer:

Teresa L

from

Austin, TX

A little big for my 6.5 month old (80% percentile for height and weight) but will be perfect for upcoming trips to colder weather. Well-made, warm, and not too pouf-y.

Posted: Nov 12, 2015 Reviewer:

gayle edgerton

from

new york, ny

The XS is listed as size 5-6, but on the tag they say 7-8, and they are definitely way to big for any 6 year old I know. 7-8 for the XS is much more accurate. They are nice pants though.

Posted: Nov 10, 2015 Reviewer:

Hillary R.

from

Boston, MA

I bought this to be part of my son's Monster's Inc. "Sully" costume for Halloween but it is a super cushy warm top as well. It has a nice heft to it and a lot of stretch. It runs a little snug - I guess it is a very warm base layer. three inches of the overlock stitching has unraveled under the arm in the first wash - not that it is coming apart, it is only the top layer of stitching that came undone. But that is why it gets four stars not five. I like the top.
About Boys' Clothing
From morning to nighttime, your little man is on the go! Make sure he's prepared for any situation with the boys' clothing collection from Zappos.
Rise and shine with casual favorites by Calvin Klein®, Volcom®, and Levi's®. Whether he rocks a polo and khaki shorts or is more of a jeans and graphic t-shirt sort of guy, you're sure to find great styles that you'll both love. Sit back and watch as he shows off his new blue jeans, hoodies, outerwear and more.
When summer vacation comes around, gear up with classic boys' swimwear styles. Make a splash in board shorts, rash guards, and swim trunks by O'Neill® and Billabong®. Stick your little dude in tropical-inspired patterns, perfect for the pool or beach!
If sporty is more his style, score big on the latest activewear with top brands like Nike and adidas. He'll love his new Under Armour® basketball shorts and workout t-shirts, perfect for the court and the gym. From track pants to warm ups to moisture-wicking muscle tanks, we have all the bases covered. Baseball players, cross country runners, soccer players, and intramural athletes rejoice!
Here at Zappos, we offer up durable, high-quality clothing because we understand how wild boys can get. Let him get rough in a red raincoat or take a tumble in tweed trousers. It's all good! If fit is your worry, rest easy knowing that we combine our selection of top quality brands with world-renowned customer service and a stellar return policy. So if the shoe (or should we say shirt?) doesn't fit, give us a call! Our customer loyalty team can't wait to make your day.