Sign Up

for

New Styles!

Be "in-the-know" when we add new styles of Artland to our website! Simply sign up and we'll notify you.

Zappos.com respects your privacy. We don't rent or sell your personal information to anyone.
About Artland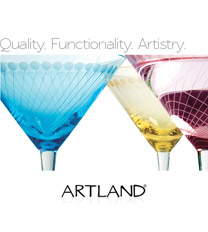 Founded in 1996, Artland® designs and produces a wide array of tabletop and entertaining products to complement and enhance versatile home décor styles. Artland's glass and silicone dinnerware and cookware, glassware and beverage servers, metal serveware, and mixed-material entertaining sets represent a constantly-evolving, dynamic collection of housewares products. Mouth-blown glassware in whimsical patterns and colors, ceramic tableware, and stainless steel barware compose a well-rounded tabletop collection.

With showrooms in New York City, Beijing, Xian, and Guangzhou, and even wider distribution, Artland enjoys a major presence in the worldwide tabletop and home fashions industries. Artland's vibrant patterns, prints, and colors are a splashy alternative to standard glassware.

When you're searching for colorful glassware, beautiful home décor, and entertaining pieces sure to spark conversation at your next gathering, look no further than Artland for quality, functionality, and artistry.


Free Shipping Both Ways · 24/7 Customer Service · 365 Day Return Policy